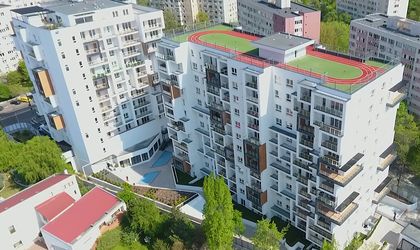 Forty Management, one of the leading developers of green real estate and urban reconversion projects, announces the signing of the lease agreement for the last commercial space available within Central District 4 Elements project, located in Titan area. The 1,000 square-meter space is taken over by the Stay Fit Gym fitness center.
"The opening of a new facility in Central District 4 Elements sustains our concept of "Affordable Luxury", meaning a high-quality standard of living for an accessible price. Central District 4 Elements offers its residents unique facilities such as a running track on top of the building, an entertainment area equipped with outdoor cinema and summer kitchen, a promenade green area, a commercial space and now a state-of-the-art wellness and fitness area, with a positive impact over the whole community ", says Mihai Corodeanu, Sales Manager Forty Management.
The mixed-use Central District 4 Elements development was finalized by Forty Management last year. The project consists in 200 apartments and 2,000 sqm commercial spaces, near Titan park.
"With the opening of the Stay Fit Gym fitness center located in Central District 4 Elements, we are strengthening our position in Bucharest, where we plan to reach a number of ten locations this year. The next two units will be opened in Pitesti, the first large city in the country we start our expansion with. By the end of this year, we plan to have over 20 fitness centers in our portfolio ", says Marius Preodișteanu, Founder & Development Manager of Stay Fit Gym.
—
"Central District 4 Elements is a good practice example in real estate, and the fact that it was completely sold out and rented in such a short period of time proves its sustainability in the market. The demand for this project is so high that the selling prices have increased over 50% in the last 6 months ", says Lucian Azoiței, CEO of Forty Management.
The renting process of Stay Fit Gym benefited by the legal support of Stratulat Albulescu Attorneys Law.
Forty Management is a real estate company that develops mixed-used projects under the Central District brand. Forty Management's portfolio includes:  Central District Polonă 25, Central District Cuza 99, Central District 4 Elements, Central District Viitorului 134, Central District Lagoon City and Central District Royal Suites, completed and ongoing projects.