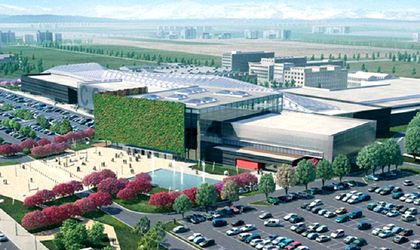 Real estate developer Centerra Capital Partners, which will soon start working on its Coresi Shopping City project in Brasov, is also planning a retail project for Timisoara, where it owns 23 hectares of land.
The developer, owned by investment fund Chayne Capital, is planning to build a retail park with 45,000 sqm of GLA under the name Timisoara South Gate at the city exit to Belgrade. The project, which will be developed in phases, has broken ground with a first opening scheduled for 2011, according to the company.
Meanwhile, Centerra Capital Partners is planning to start working on its shopping center in Brasov, which will be built on the premises of the former Tractorul factory. The project will require EUR 110 million in total and will be built in two phases.
The first will comprise 45,000 sqm of retail, out of which 10,500 sqm will be occupied by an Auchan hypermarket.
The remainder of the project will include a shopping galleria, a DIY center, a furniture store and a sports shop.
The second stage of the project, representing another 40,000 sqm of retail, will include 150 stores, coffee shops, restaurants and a multiplex cinema.
Coresi Shopping City will open in 2011. The developer hopes to fund the investment through its
own resources, while still pursuing alternative banking financing options.
An office area will be added to the retail element, comprising some 125,000 sqm of office space in total. The existing buildings on the former Tractorul premises, some 15,000 sqm, have already been partially revamped by Centerra, which leased 7,000 sqm of the area to companies such as Computer Generated System (CGS), IBM, Freudenberg and Fresenius Medical.
Centerra Capital Partners, which bought the former Tractorul platform in 2007 for EUR 77 million, was set up in 2006. Before getting involved in development with the Brasov and Timisoara projects, it also bought a 20th century villa in Bucharest, which was resold in 2008 to a retailer.
Centerra was founded by two Romanian private equity professionals, Victor Vadaneaux and Silviu Savin, both with investment experience and track records in Western European buyout and venture capital transactions.
In the future, the firm intends to offer property development and management services to third party property owners on a selective basis. Plans also include capitalizing on its private equity experience in Western Europe to make private equity investments, an untapped segment considering Romania's long-term economic growth prospects.
Cheyne Capital manages USD 6 billion of assets, coming from blue chip institutional investors such as pension funds and insurance companies, as well as investment offices of high-net-worth Western European and Asian families, according to the company.
Corina Saceanu