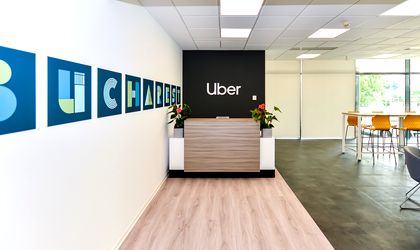 CBRE Global Workplace Solutions (GWS) division, part of CBRE, the global leader in the real estate consulting market, acted as general contractor for the most important support center for partner drivers and couriers in Central and Eastern Europe, initiated by ridesharing company Uber in north Bucharest. 
The new support center for Uber partners in Bucharest is located in the Conect Business Park office area in Pipera and covers a range of approximately 320 square meters, becoming a flagship location, with a maximum capacity to serve up to 2,500 drivers and couriers weekly. As a general contractor, CBRE GWS has provided complete Design & Build services, ensuring a turnkey project in just a month's time, from space planning to setting up the smallest detail.  
The Partner Support Center was developed in accordance with Uber international standards in branding and design. This includes a large open-space reception area, where Uber and Uber Eats partners can get information or support in solving different application issues. The consultancy offices of Uber experts are located within this perimeter, as well as a waiting area for drivers and couriers. Furthermore, there are other complementary functions, such as: a training room, where various events or courses will be held, as well as an area where Uber employees can dine or relax.
The Design & Build service involves covering all processes and planning and execution activities within a construction project, from the project theme to commissioning, eventually resulting in a turn-key project. As regards Uber, the concept and the supply of furniture, as well as some graphic and print elements and even office floral arrangements were also integrated.
CBRE implemented the Design & Build service for the first time in Romania in 2018, in its own office, where it included the latest Design & Build trends, combining technology with wellness and flexibility principles, such as an application that measures the degree of use of different types of workspaces or the space simulation tool that allows 2D and 3D virtual tours. For this type of integrated service, customers can benefit from customized, turnkey solutions, in which all the responsibilities regarding the delivery of the space are taken over by the provider. 
 "The attention given to the space in which the employees or partners operate is, in fact, a confirmation of the attention paid to the customers. For companies where the office is similar to a hive, the existence of a support center or an event area turns the space into a source of recharging the batteries and at the same time it offers the opportunity to get to know the team members or other partners, thus strengthening the community ", explained Tudor Ionescu, Senior Workplace Adviser, CBRE Romania.