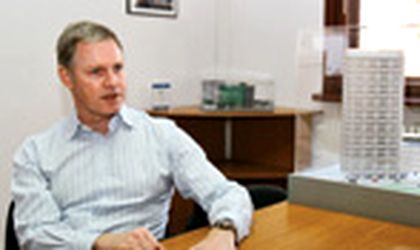 "We are trader developers, we build to sell," says Alex Van Breemen, head of Cascade Group. Not only does the developer sell projects when completed or during construction works, but it also partners investment funds or developers to pursue its projects.
The biggest of Cascade's projects so far will be developed in partnership with developer Avrig 35. The two will build a mixed project on 30 hectares of land in south-east Bucharest, on Theodor Pallady Boulevard, in a location which used to belong to Zentiva. "We could easily build 700,000 sqm there, so the investment could be around EUR 750 million, excluding the value of land, which is about EUR 60 million" van Breemen told Business Review. The exit value of the project could however reach around EUR 1.5 billion, he says.
Cascade and Avrig 35 are currently in the design phase for the project, which will consist of a shopping mall, offices and residential space. "We are currently demolishing the existing industrial structures on site and we hope to get to construction works in nine months from now," said van Breemen. Overall, the project should take five to seven years to complete.
The residential portion of the project should target low to medium earners, at an average price of EUR 1,200 per sqm, says van Breemen.
Avrig 35 and Cascade have equal stakes in the project. The piece of land was bought a year and a half ago and is now worth EUR 60 million, which is more than double the price paid, said van Breemen.
The almost EUR 800 million project and the underway Cascade Euro Tower office building should keep Cascade busy for the next couple of years, so the company has no intention to pursue projects outside Bucharest. "Everybody is going outside Bucharest out of necessity. I have 30 hectares in Bucharest, I need to take care of these," says the group head.
Another Cascade project in partnership with another party is the EUR 60 million Cascade Euro Tower, a green building in which the developer gets a 40 percent helping hand from investment fund Charlemagne Capital. "They let me do my job as a developer," says van Breemen about the partnership with Charlemagne. Although already approached by other investors to sell the project, van Breemen says it is too early in the game to consider a sale as there is no rush. But both parties will jointly sell to a third one, he goes on. The project should be completed in March 2009.
The Euro Tower building, some 26,000 sqm of offices in the Barbu Vacarescu area, is already one-third leased to Banca Romaneasca, which will occupy six of the planned 18 floors. The building will be erected on a 2,000-sqm plot, which Cascade bought three years ago.
The firm has chosen to invest in green areas around the building and on its roof top, and is designing the building so that it increases the natural light. "The additional cost for a green building is marginal. Maybe we had some opportunity loss, as we could have built retail on the ground floor, but we decided not to. This translates into EUR 1.5 million less in value when the building is sold," van Breemen explains. Although he had received permits to build on 60 percent of the footprint, he decided to build only on 35 percent, and cover the rest of the land with green areas.
Cascade's first deal on the market, the sale of Cascade Office Building in November 2005 to investment fund Fabian, was also the fund's first investment in Romania. "It took us half an hour over a cup of coffee to negotiate the deal," says van Breemen. Overall, it took two to three months to get the necessary paperwork done and sign the deal, he remembers. "It is a meeting of minds, sometimes, and it is also about people. Moreover, the simpler you keep the deal, the fewer misunderstandings and discussions
you will have later," says the businessman.
Having been working on the Romanian market for the last 15 years, the first six of them as the head of British American Tobacco, newly established on the market at the time, van Breemen trusted real estate was a good bet and decided to stay. He started Cascade Group in 1998, with financial backing from Dutch investors. His idea came simply from looking at the BAT headquarters, for which the company was paying too much and which offered poor conditions for the tenants.
van Breemen is now living in Istanbul and travelling around, as Cascade Group plans to expand regionally from Romania. Next on the map are Ukraine and Serbia. "Ask me where my next home will be in five years, and I cannot tell you. Maybe in Kiev, I don't know," he says.
He doesn't like to talk about projects for which he doesn't even own the land. Everybody can plan, he says, but "I only talk about projects when we at least have the land." For the future, he sees less Cascade involvement in offices, but definite activity in residential and retail, so far excluding industrial from the forecast.
By Corina Saceanu