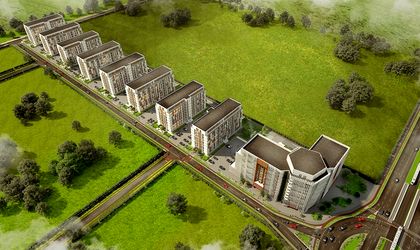 Campeador Group, one of the most important real estate developers in western Romania, contracted a financing of EUR 4.5 million from CEC Bank. PCF Investments Banking was the exclusive consultant of Campeador in structuring, negotiating and implementing the financing, this being the third financing obtained by PCF for Campeador.
The current credit will be used for developing Campeador City, one of the most important residential projects under development in Timisoara. The first phase of Campeador City has two blocks of flats with 95 apartments each and a total of 113 underground and above-ground parking lots. The project is located in the city centre, first phase being due for delivery in April 2022.
Campeador City will reunite in total eight blocks of flats with one, two and three rooms, and an office building, which will also include commercial spaces and a kindergarten. The project will be developed in four stages.
Campeador Group has an experience of 15 years in developing residential and commercial projects, having successfully delivered infrastructure projects, retail works, building modernization and thermal rehabilitation works, road construction projects and agro – industrial projects in Cluj – Napoca, Bistrita, Bucuresti, Timisoara and other cities. The company delivered so far over 3,000 residential units in seven residential projects located in Romania and Austria.
"We are delighted with the collaboration with CEC Bank and PCF Investment Banking, as well as with the prospects of developing our company's projects with such strong financial partners. CEC Bank proved once again that is a bank close to the needs of the Romanian entrepreneur and the trust build with each project developed with PCF's advice, the experience gained and the dynamics between us make us proud of this collaboration", stated Florin Larionesi, CEO Campeador Group.
—
"PCF Investment Banking is already at its third successful transaction for Campeador Group, together with CEC Bank, an already constant presence in the area of financing Romanian entrepreneurial business. We are already working with Campeador on structuring the projects for 2022 and beyond, part of our long-term commitment as an exclusive financial partner", said Mihai Iordan, Managing Partner of PCF Investment Banking.
PCF Investment Banking is the leading local consultant in the field of corporate finance and investment services, M&A (mergers and acquisitions) and attracting investments. The company's team advised over 100 local and international companies, completing transactions worth over EUR 1.5 billion.