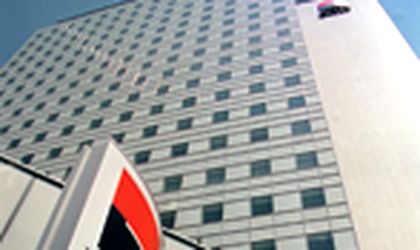 Land availability dictates office location
Submarkets are defined by their location in the city and a set of common features of the developments in the area. Jones Lang LaSalle has seen several emerging markets in Bucharest for office developments. The northern areas, Baneasa and Pipera have emerged as office submarkets in recent years. The western area of Bucharest, with office rents close to those in Pipera, is a newer addition to the office developments map.
The south is expected to emerge soon, as it is the only area in the city still to be exploited for offices which, more importantly, still has available and somewhat cheaper land.
"One could say that submarkets really start to differentiate as such when trends regarding supply, demand, take-up, vacancy and rent levels start to emerge for the specific submarket as a whole," explains Muler Onofrei, managing director of developer Aleph Properties. So, from this perspective, it doesn't seem that Bucharest has real submarkets yet. For the moment, although in theory a developer should be drawn by a specific submarket considering its office development intentions, it all depends on where the developer can find available land.
Several years ago, when available land wasn't so scarce, developers had multiple choices, but developments – not only office but also residential – were made without a clear view of how the market could evolve.
Nowadays, submarket trends – like the existing one of low-rise business parks in the Pipera area, for example – are even more relevant than the general market trend.
"Pipera as a business district has become a proven submarket in the last two-three years with the delivery on the market of Conect Business Park and Novo Park along Iride Business Park," says Carol Petrica, head of office leasing and occupier services with Jones Lang LaSalle.
Poor infrastructure slows down submarkets development
The market is now so undersupplied on the office segment that, again in theory, all office developments in all Bucharest areas should fill up with tenants. Vacancy rates close to zero are making the picture clearer. But in practice, developers are trying to get as close as possible to good public infrastructure, as for tenants this is one of the important issues.
Public transportation facilities are also desirable. An office building close to a metro station, not necessarily downtown, may nowadays be more attractive than a building in an area with a poor infrastructure connection to the rest of the city.
"Public transport facilities – metro stations mainly – represent the engine for the development of the new submarkets. In this respect, we can mention the metro stations on Dimitrie Pompeiu, Semanatorea and Industriilor," says Carol Petrica.
"It is kind of hilarious to compare Bucharest to London, but one cannot help noticing that a lot of London executives can be seen in the metro. This happens because wise investments have been made in the underground network. In Bucharest people have to travel from south to north and back, every day, without the help of proper infrastructure," adds Onofrei.
Indeed, poor infrastructure seems to be a problem the city should be addressing soon. The Baneasa and Pipera areas, with over 180,000 sqm of office developments planned or already underway, according to data from DTZ, are two of the most crowded areas, as the main road exiting the city form the north is also the main road to these areas. The City Hall is trying to address these traffic jam problems by building a city bypass, which should ease the access from all over Bucharest to this area, and flyovers in the area.
"The current infrastructure does not properly connect the main submarkets. Some of the northern locations do have access to the metro so they can be easily connected with the center but most of the submarkets are rather isolated from an infrastructure perspective," says Onofrei. This is a very important factor for a client looking for office space, he adds.
Developers avoid crowded submarkets, look at newer hot spots
The main elements companies are looking at when choosing an office building is the building's visibility, if it's appropriate for headquarters, access to public transportation, availability of parking, the gross/net ratio of the building and rent, says Onofrei. Developers need to be interested in a similar set of values, if they want to attract the right tenants.
Even if a developer can tick all these boxes and find land in the submarket of its choice, it is important to watch the developments of the respective submarket. "For example, if there are four new projects in the pipeline in CBD, it is wise to consider a different location or to wait until the demand/take-up ratio is strong enough, or to try to secure a pre-lease," says the director.
Such a developer could consider a less downtown area, which has its strong points. The newly emerged western business area has the advantage of a higher density of population living in District 6.
"The increased number of students living in the nearby area is a great asset for firms with operations in the western area, in Semanatorea and Industriilor," says Petrica of JLL.
Corina Saceanu