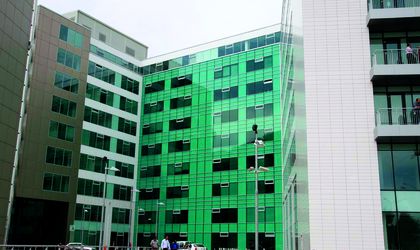 Bucharest office rentals were up 65 percent in the first quarter of this year, compared to the same period of 2009, according to DTZ Echinox. Around 68,000 sqm of office space was delivered in Q1 of 2010, 24 percent of the forecasted annual volume.
Most of the office buildings delivered in Q1 are located in central and north Bucharest and include City Gate (the B tower – 21,000 sqm), Euro Tower (16,500 sqm), and Platinum Center (8,750 sqm).
The total estimated office space to be delivered in 2010 stands at 288,000 sqm, 12.7 percent down on last year. The volume still to be delivered this year stands at 220,000 sqm and includes largely A type office buildings and only a few B type.
The limited access to financing and high vacancy levels will lead to a decrease in delivered office space in 2011, when DTZ estimates that 135,000 sqm at most will be delivered by year end, down 53 percent compared with 2010.
Q4 2009 was the highest quarter for take-up last year with 60,000 sqm. Take-up for Q1 2010 was lower but supported the general sentiment that the market was strengthening.
Take-up in Q1 2010 compared to Q4 2009 saw a 30 percent decrease quarter-on-quarter and a 65 percent increase year-on-year (versus Q1 2009). Relocations represented 85 percent of the total take-up.
The largest transaction was a 11,735-sqm letting by Sanador within Sevastopol Office Building. Space requirements for the center ranged from 200-1,200 sqm whilst in peripheral locations they varied from 400-1,000 sqm.
DTZ forecasts that total take-up for 2010 could reach 190,000 sqm, a 46 percent increase from the previous year.
Prime headline rents during Q1 2010 fell by 5 percent quarter-on-quarter.
Prime rental levels are EUR 19-20 per sqm per month for buildings located in the city center, EUR 14-17 for semi central locations whilst rents in outlying areas were in the range of EUR 9-13. According to DTZ estimations, rents have further to fall in the short term with the market expected to reach the bottom of its current cycle in the second half of 2010.