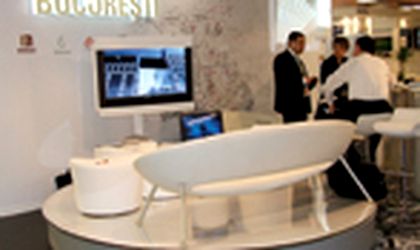 The Bucharest City hall stand was supported by several Romanian developers which exhibited in the same location, thus covering the overall costs.
While other European cities, like Stockholm, Luxembourg and the all-present Russian regions, like Krasnodar, were advertising all over the site of the MIPIM fair to attract visitors to their stand, the Romanian presence was not so glamorous.
The cocktail party held by mayor Adriean Videanu did however attract quite a large audience,
interested in information about the city.
Videanu advertised the city as an investment target by mentioning the possibilities of starting public-private partnerships in the city. He has also asked developers to move in for the former industrial platforms in Bucharest. Videanu himself owns such a platform – the Titan Mar marble factory, for which he announced relocation plans and which is now up for sale.
The Romanian stand was a meeting-place for some of the biggest investors in Romanian real estate. Gabriel Popoviciu, of Baneasa Investments, and Alexander Hergan, of Avrig 35, both silent investors, were present at the fair. Their companies were some of the City Hall supporters at MIPIM.
Romania was represented by several companies with booths on the site, and by up to 100 companies in total, most of which just registered as participants, and not exhibitors. The number also includes the foreign companies which have a subsidiary in Romania.
Companies such as Adama, Baneasa, TriGranit, Cefin Real Estate, Monolit Development, Neocity Grup, Avrig 35, and River Invest, among others, were present as exhibitors at the fair.
By Corina Saceanu