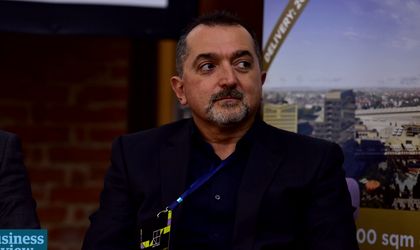 Florin Furdui – Country Manager of Portland Trust, was a speaker in the first panel of Business Review's REALTY Forum, and said that having the right economic mindset will lead to positive results even if there are periods of general economic downturn. However, he also noted that investments on the Bucharest office market are only at a level that is similar to tertiary cities in Poland.  
"I worked in the telecom sector until 2008 and therefore missed the "El Dorado" days of real estate, even though my friends in this sector were making crazy amounts of money. But the last 11 years have been an interesting journey and I can only speak about the Bucharest office market – I was a tenant of the first A+ office building in Bucharest while running ING's IT department," Furdui said.
"We learned that if you do the right things and have the right economic mindset, the market will still reward you  – in 2010 Portland Trust delivered its first building, on Floreasca 169 – there were almost no office buildings at the time in the Floreasca-Barbu Vacarescu district, and no Promenada Mall – it looked very differently. We closed our first transaction in 2010 and it was the only transaction for a long time – we were lucky enough to have NEPI choose us at the time," he added.
Furdui also noted that Romania is still an underdeveloped market, especially compared to the Polish one, and that this is not just due to perception like other speakers had suggested, but also due to some real issues that investors see on the local market.
"It's very easy to blame perception for the problems we have. Perception isn't just driven by "fake news" but also by reality. Even though Romania today has a very different perspective compared to a decade ago, it's still hard to explain the big difference between the Polish and Romanian investment market – the Bucharest office market is now at the level of tertiary cities in Poland, but those tertiary cities are much less risky than the Romanian capital in the eyes of investors."
Talking about the crisis that is predicted by many, Furdui said that "everybody predicts a crisis. For sure there will be a global crisis, but the ingredients are very different than it was in 2009. The liquidity in the banks is much larger and the banks are not keen to funding."
"If there is not a crisis in the world, the things are ok, the rates are low, the yields are good. Maybe there will be just less potential, not a crisis. We may see a small earthquake, not a big one. We already see a lot of problems, with Brexit, with stock exchange market. We have a crisis prepared in the industrial area, with technology replacing humans. We have many little crisis, I don't think there will came a big one."