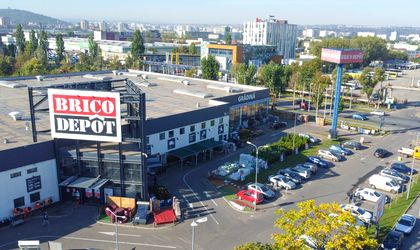 Colliers advised on the disposal of the real estate property Brico Depot Iasi to the real estate division of Rădăcini Grup. Schoenherr lawyers assisted the transaction for legal advisory, on the seller's side. The total volume of transactions generated last year, of over 1.25 billion euros, Romanian capital accounted for about half, more than 4 times the annual average from 2015 to 2021.
Located in the city's retail and logistics area, the Brico Depot DIY store in Iasi has a sales area of approximately 8,000 square meters, with around 200 parking spaces and was opened in 2007 as a Praktiker brand. Brico Depot, part of the British DIY company Kingfisher, entered the Romanian market in June 2013 by taking over the 15 Bricostore stores, and in December 2017 consolidated its position on the local market by acquiring the entire Praktiker Romania store network, becoming number 2 on the local DIY market with 35 stores in 23 locations.
"There was significant interest in acquiring the property leased to Brico Depot in the center of Iasi, given the increased investor demand for products that produce stable medium to long-term income in large cities. This shows that the Romanian economy is strong in general, not only in Bucharest, and that capital is gradually growing as the economy is maturing countrywide. Iasi is a city with impressive development in recent years, attracting hundreds of millions of euros in European funds and private investment, and has good potential for economic and real estate development", says Simina Niculita, Director | Partner | Retail Agency at Colliers.
—
"We are pleased to have advised the Sellers on the successful structured disposal of this property and are also pleased to see private domestic capital investing into Romanian commercial property. The regional economic centers of Romania have a lot to offer and we are looking forward to the increase in investment activity in the leading cities of Romania", adds Robert Miklo, Director| Investment Services at Colliers.
The value of investments with local capital accounted last year for about half of all real estate investments made in Romania, a level more than 4 times higher than the annual average from 2015 to 2021, followed at a great distance by South African and Austrian capital, with about 20% and 10% respectively. Looking forward, there is significant potential for increased local investment in real estate. As the market is gradually maturing, more and more local investors are gaining leverage, including entrepreneurs with strong businesses in the country's main economic centers.
The Romanian investment market recorded transactions of over 1.25 billion euros last year, well above the 890 million euros result from 2021, being the highest value since 2007, according to the 2022 Annual Report released by Colliers. Furthermore, 2023 is not looking like a slow year either, even if market trading volume is likely to decrease considering last year's record volume.