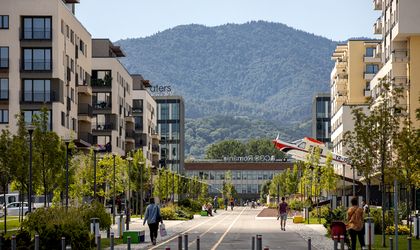 Business Review recently sat down with Flavia Fițoiu, Operational Director Cartier Coresi, to talk about the project's concept, urban regeneration, the impact on the local community, and the group's plans for the future, in an exclusive BR Interview.
By Anda Sebesi
What was the idea behind the Coresi District and what differentiates it from other projects?
Cartier Coresi in Brasov, whose development started in 2013, is the largest urban and community regeneration project in Romania, having integrated the heritage of the former Tractorul platform and the vibration of local communities.
From the beginning, Cartier Coresi stood out as a visionary and brave project, innovating at the intersection of refurbished old industrial buildings and new landmarks and proposed a balanced and well-defined masterplan. Cartier Coresi is the place that changed the life of the city and the region at large, being different from other projects when it comes to:
Size – as the project brings back to life 100 hectares which represents approximately 8% of the active surface of Brasov
Concept – it integrates a diversity of property functionalities, having already delivered 59.000 sqm GLA of Retail, 60.000 sqm GLA of Office, 2000 apartments, a 4 star hotel with 133 rooms and 3 community spaces for coworking and events.
Community – from the beginning we took on the role and responsibility of community animator and trusted partner for people living here and we brought to life concepts and initiatives aimed to linking people and creating surprising experiences for them.
Photo Gallery
What are the projects that you are about to launch (or already launched) in the next period?
This year we focused on enriching the Office functionalities inside Cartier Coresi, by inaugurating a state of the art, co-working and community place dedicated to entrepreneurs and businesses in the region. This 1,300 sqm space is fit to accommodate 130 desks in open space area and private offices and includes two meeting rooms, a library, an open space networking area and a kitchenette. This is one of the three community spaces in Cartier Coresi, as in October 2019 we launched Cartier Hub (a place for families and kids) and recently, we opened in partnership with The French Alliance in Brasov the Francophone Club for Affairs (CFAB – Centrul Francofon pentru Afaceri).
Having dedicated 1.600 sqm to community spaces and creating a total of 90.000 sqm of green spaces in the neighborhood, we bring to life our commitment to creating smart, sustainable and lively places.
In additional, this year in July, we inaugurated Aviators Alley, a pedestrian alley that crosses the neighborhood from one point to the other and represents a lively neighborhood backbone.
What are your plans for the future?
In the coming months, we will inaugurate the 4 star hotel, which will be managed by local partner Kronwell, and future phases of development, include innovations in the fields of retail, office, residential and entertainment spaces.  In line with our strategy so far, all future developments will include a form of partnership with local stakeholders, both from the public and private sector. We do this to ensure that our projects are relevant, innovative and strongly linked with local needs. In fact, this was one of our key success factors in the past – partnerships developed with Kasper Development, Ascenta Management, local authorities and dozens of NGOs in the community.
What can you tell us about the community and business components of your project, Coresi District?
When it comes to the business component, as previously highlighted, we are particularly proud of the strong links we developed with partners from the retail, office and development areas. To keep these business ties strong we regularly organize events and meet-ups (adapted to the context) and propose new projects to our network of 200+ partners.
"Together we are the heart of the city" – this is the name of the latest campaign we launched with and for citizens in Brasov to honor 5 years of continuous community involvement. In numbers, our commitment is show by: 2500+ events organized and sponsored in Brasov and the region, more than 300 partnerships with NGOs and local authorities and an year on year, 40% investment of the marketing budget in community projects.
In addition to these yearly activities, 2020 marked a key milestone for our community involvement as we have donated to ISU (Inspectorate for Emergency Situation) Brasov a 317 sqm harbor which allows firefighters to reduce time to intervention to less than 6 minutes. The total investment in this space reached 500.000 EUR and the works lasted for several months.
In addition, the development of Cartier Coresi, helped create in Brașov 10.000 temporary and permanent jobs (Office, Retail and Development).