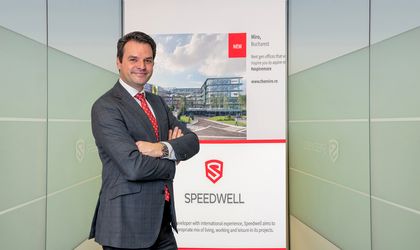 Didier Balcaen, the CEO of Speedwell highlights the main projects of the company on the local market and the way it adapted to the new context generated by the pandemic.
What are your main projects developed in Romania so far?
We currently have several projects in different cities of Romania, in various development stages. In Bucharest, we are developing three projects, one A-class office project – MIRO, and two residential projects – THE IVY and TRIAMA Residence. Located in Northern Bucharest – Băneasa, MIRO, our office project, and THE IVY, the residential one, combine as a mixed-use set-up for a better work-life balance. MIRO offers 23,000 sqm of leasable office spaces, is 60% pre-leased to date and will be delivered at the end of 2021. THE IVY, located within walking distance from MIRO, features over 800 dwellings. For the first phase consisting of 228 units, construction works will start before the end of this year.
The second residential project we are developing in Bucharest, TRIAMA Residence, is close to delivering its first phase comprising of 66 apartments. After reaching the "sold out" milestone for Phase 1, we have launched sales for next phase which includes 68 units deliverable at the end of 2022.
In Cluj, we are finalizing our mixed-use regeneration project, RECORD PARK. Through it, we are adding to the market a total of 236 apartments and approximately 15,000 sqm of commercial spaces, mainly office and part retail, including a stand-alone WorldClass with a unique pool with retractable roof. Following Record Park's model, we are developing another mixed-use project, Paltim, located in Timisoara. It includes 15,000 sqm of A-class offices, approximately 300 residential units and a refurbished historical villa, all in a central location. For Paltim, we are finalizing the PUZ stage and plan to start commercializing early 2021. In Ramnicu Valcea, we manage a land development of 10 ha for which we obtained the PUZ and are currently selling allotments to other developers, for a potential of up to 50 houses, 1,100 apartments and retail spaces.
What can you tell us about the residential and office segments in Romania in the current context generated by the pandemic?
With every crisis there comes an opportunity for development, and we are noticing that in the current context as well. When it comes to the residential market, the positive impact of the pandemic represents a shift in the users' perspective. Home buyers are looking to improve their quality of life since they are spending more time indoors. Although we have seen an increased demand for houses compared to the one for apartments, the vast majority of demand will remain for the latter category. Buyers are more interested in larger surface apartments, with at least a terrace and more efficiency when it comes to the way every square meter is used. These are a few details that we have always given importance to in all our projects, even before the pandemic. Our aim is to offer a better standard of living and this can be noticed in the attention to detail and the design concept.
In what regards the office market, the current situation of many employees working from home has made an impact. There has been a decrease in office spaces leasing request and we are adapting to this new reality by doing what a true partner of the tenants does: being open to their requests and offering more flexible conditions. It's important to collaborate and see tenants as more than just a client. They are also our partners.
What are your plans on the local market?
We are planning to continue with the projects we are currently working on, through their delivery. Apart from this, our plan is to purchase at least 2 new plots in the next year, focusing on Bucharest, but also on the major regional cities of Romania, following our strategy of increasing our pipeline of new large scale developments in the local market.
How did you adapt to the current context?
Over the past 8 months, we have adapted to this new way of working by implementing new tools, being on-guard for any delays which might appear and putting the well-being of our employees and collaborators first by taking preventive measures. Even so, the pandemic didn't have a big impact on our projects, and we didn't have to pause the construction sites. The permitting process continued to function well, with no significant delays.  A special thanks to our amazing team, that has remained in positive spirit and has shown to react extremely agile to the current fast-changing circumstances.
PropTech is obviously another matter we were already implementing, but now we have stepped up even more the application of technology at the service of our buyers and tenant.  This is materializing through the Capacity (Cegeka) smart parking system, the next step is the integration of BringMe Boxes for easy online deliveries in both residential and offices compounds.