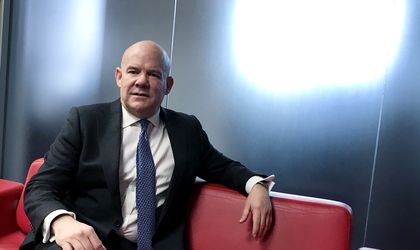 Chris Bell, the managing director of consultancy company Knight Frank Europe, is a pure Brit. Educated at Cambridge, at almost 60, he is preparing to retire in March. With 30 years' experience on the property market, and having spent the last 20 as the director of Knight Frank Europe, he will retire on the same day the UK will leave the EU – March 31.
Bell partially agrees with Brexit and says it's the greatest no-news of the period. He accuses his own generation of not participating in state affairs, which has made UK politicians weaker and weaker. "I wouldn't employ any of them, with small exceptions," Bell says.
He seems a moderate conservative and has strong opinions about the UK's relations with EU: "badly managed by both sides".
Knight Frank entered the Romanian market ten years ago, and the company recently opened a branch in Budapest, which for now is managed from Bucharest.
Romanian real estate
BR: Why do you think Romania has a relatively low transaction level?
Chris Bell: I am beginning to understand some of the market's issues. I would suggest that there are a number of factors. The first one, if you go back 15 years you didn't have any institutional product. Then there is the market, which we are calling lumpy. If you go to London and analyse the market you'll be surprised that only 20 percent of the market represents big transactions of over EUR 100 million. So, Romania's transactions are according to the market. Then you have a bit a country risk and a geographical edge of European problems. If you stay in America or  London, you cannot know about this situation. Another factor, the biggest one, is the perception. When I first came here I was convinced that the country is full of Roma people and things like that. That's the western perception. Every westerner has the same perception. On the other hand, every single person from the west who came here at conferences and so on said wow, what a lovely country…
Investors are cautious and they are looking for reasons not to invest. The world itself is a bit risky. In 1994-1995, after I returned from Spain where I had set the foundations of the local Knight Frank, I was talking with the big investors. Look, you have to put your money into big buildings, worth EUR 70-80-100 million. No, no, they said. And that probably took four of five years.
So, not that much money for the Romanian market.
If you look closer, in 2010, in Paris and London, the most liquid markets of Europe, you couldn't sell a bean for more than EUR 20 million.
For Romania, if I go to an investors' council and and I tell them that I have an extraordinary opportunity in the country and ask how much are they willing to invest, they'll say around EUR 100 million. OK, I need EUR 80 million to start with. No, no, we were thinking we'd start with around EUR 15 million.
The products are good, but I think it's the wrong profile. The buildings are fantastic, but the country has a risk and an image…
So, we have to wait a long time until German or British pension funds start investing in Romanian real estate.
There are countries geographically close, like Poland and the Czech Republic, where pension funds have just entered on the markets. One of the things that helped the western world was strong pension funds investing 8 to 10 percent of their money. I think Romania first needs to have a stronger domestic presence. That gives everyone confidence. For the moment it is relying too much on foreign markets. I think this is going to take some time – that's my frustration. There are South African investors, Austrian as well, who feel more comfortable here, and I understand that there may be some important transactions this year. I talked with a few investors in the last couple of days and they see the market as quite interesting. It would be easier to sell a EUR 20 million property, and harder for one worth EUR 100 or 80 million, but again easier for a EUR 300 million portfolio. If you bought something for EUR 300 million, you come, you have a team on the ground and that might be interesting, a solid presence on the market, and a test.
Any transactions in Romania in the next months?
I'm sure there will be. As far as I know, NEPI Rockastle has put its office portfolio on the market. Portland Trust might sell something, Atenor as well. And with a spread of at least two percentage points above Poland and Czech Republic, the products will sell. It may be a little harder, but I don't think the price is to blame. At least, it's is not the biggest issue. I am telling you it's rather the perception on the market. That will take time to rectify. A long time…