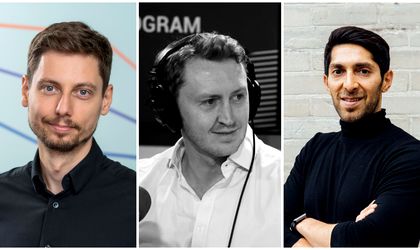 Bright Spaces has raised this summer another important EUR 1.5 million investment for its digital leasing platform from Axeleo Capital (Lead Investor), Pi Labs, Sparking Capital, Growceanu and Strategic Angel Investors. To find out more about the plans of the Romanian PropTech, and why Axeleo Capital and Pi Labs chose to invest in it, we sat down with Bogdan Nicoara, CEO & Cofounder Bright Spaces, Mathias Flattin, Partner and Fund Manager of Axeleo Proptech I, and Faisal Butt, Founder and CEO Pi Labs, for an exclusive triple interview.
Bogdan Nicoara – CEO & Cofounder Bright Spaces
You've recently raised an important EUR 1.5 million for the Bright Spaces platform, how are you planning to use the funds from this investment?
This round is of a vital importance for us, from multiple points of view.
On one hand, this money will help us expand our impact in Western Europe and CEE, while developing new tech features that actively improve the digital leasing and showcasing processes for commercial landlords. This wouldn't be possible without the right talent onboard, so we are also planning to grow our team even more – after having tripled it in almost a year – and to attract key members that will support our global ambitions.
On the other hand, we have closed smart partnerships with our VCs and angels, meaning that they don't contribute only financially, but are very confident in our vision and potential. They share our mission, offer invaluable access to their networks and markets and are ready to support us with their know-how and powerful experience throughout our journey.
The real estate industry has recently experienced an accelerated drive towards digitalization. Do you see this push continuing at the same pace, or are we reaching a point in which the PropTech scene will get saturated and things will settle down a bit?
I think that the PropTech industry, all over the world and even in Romania, is only at its dawn, fastly growing towards one of the most important technologies in the following years. The real estate industry is a more traditional one, so the digitization process won't happen overnight, but it will definitely happen.
It will take time and property technologies will continue to evolve and serve new and new needs as the market understands its potential. I am optimistic that the industry will see increasingly more support, trust and adoption from real estate players.
Is there a niche or sector which you consider that might be untapped at the moment and with high potential for you or other tech-savvy entrepreneurs and investors?
We are looking at starting projects with all major sectors of commercial real estate. However I will emphasize the obvious, Industrial & Logistics sector grew fast during covid and it will only get bigger as e-commerce takes over traditional retail. For us this means 2 important niches open up: warehousing because of the fast growth and now becoming the "golden child" of real-estate and retail malls & parks (even high-street) because of the need to reinvent themselves. Not to share too much of what we are working on right now, 🙂 I can tell you the future is Bright in all real-estate sectors.
Bright Spaces has grown remarkably in the two years since its founding, but what would be your ultimate goal for the company?
Our end goal is to become a standard, top-of-mind choice for commercial real estate landlords worldwide who want to embrace a better, safer, more innovative business approach.
We want to grow beyond local and European borders and provide our solution to any commercial landlord that is ready to lease their spaces faster, cheaper, in a digital environment, using state-of-the-art technology. Nevertheless, we are seeing a lot of the players in real-estate integrate ESG policies at their core, so Bright Spaces is here to help with this also, by minimising the carbon footprint (less trips to visit the space in-person, less printed materials needed) as well as through inserting more transparency and collaboration in this very competitive and opaque sector.
Mathias Flattin, Partner and Fund Manager of Axeleo Proptech I
When did Bright Spaces come onto your radar and what was your first impression of it?
We discovered Bright Spaces in March 2021. We've been impressed since the very first call by the adequation of the product with the situation met by commercial real estate after the pandemic. The conversion of every office worker to a remote worker pushes asset owners to rethink the way they commercialize and manage their assets to fit with this new fragmented demand and be more competitive.
What were the main reasons why Axeleo Capital decided to get involved in this financing round for Bright Space?
Beyond the theory of adequation between product and market need, we appreciated the fact that Bogdan, Andrei and their team had already sold and implemented the software on a significant number of buildings. Due to the long term cycles of real estate, this industry can be quite conservative so the most complicated part for a proptech is usually to actually sell its product.
Bright Spaces founders are very connected in the real estate industry, European Wide, which helps a lot. In addition to the scalability of the product itself (SaaS platform) and the care from the team to build a great UX/UI, these showed a potential of good execution from the team which motivated our investment.
At Axeleo, you've conducted an extensive reasearch of the European Proptech Startups ecosystem, what are some of the main key points you've mapped out?
After meeting 2000+ European Proptech in the past 18 months, our first conclusion is as follows : We need to build European leaders quickly. Startups still operate at a very local scale. Of course you need to start somewhere, but we think Proptechs could benefit some international expansion from the very early stage, to test new markets and find the more favorable ones. We also think some of them could partner or merge  to build European leaders able to negotiate larger deals with Corporates rather than facing the same challenges in parallel in different countries. This is why we published last July on Axeleo's website an open mapping of the first 1600 companies we had met at that time.
Real estate is also composed of industry experts who know each other. It is a closed corporation sometimes so not only should you build a great product as a Proptech, but also you need to be part of this corporation to be accepted and seen as a value added partner for the customers. So a successful founding team will require an addition of tech guys and real estate guys. If you lack the tech side you will not reach scalability and efficiency (we have seen good examples of that on the past years with promising unicorns finding their limits). If you lack the real estate you may not find the product market fit.
We truly believe that Proptech and Contech bring long term efficient solutions to answer the challenges Real Estate is facing : demographic pressures, social shift (remote work is a good example), sustainability, limited efficiency or productivity… The quality of Proptech products and teams has never been so high and it will continue to improve as more and more entrepreneurs enter the industry.
As a new board member of Bright Spaces, what are your main targets in this role?
Remain as close as possible to the company, this is why we only invest in Europe, we want to be experts in the industry we focus on, to be sure we support the best teams on the right topics with a correct understanding of the various parameters of their market : competition schemes, technology adoption, regulations.
Axeleo builds expert funds on two verticals : Enterprise SaaS and Proptech, that is why the combination can be a good fit with Bright Spaces.
As seed investors we commit to bring operational value added to founders, buy building customized acceleration sessions with our accelerator or bringing our LP's at the table to test and challenge the product of our portfolio companies.
Finally, our role as Venture Capitalists is to support progress: progress of the company, but also on the Social side. The founders of Bright Spaces want to change their industry, but they also want to do it the right way, we are here to help them build their business with all the sustainability and social concerns that any entrepreneurs should consider today.
Faisal Butt, Founder and CEO Pi Labs
What can you tell us about the PropTech ecosystem and its impact on the wider real estate market?
PropTech is a fascinating and growing sector. In fact, the number of PropTech companies has tripled over the last 10 years according to a recent JLL study. If you're a property company that isn't already investing in technology and experimenting in this space, then you should be. It is a diverse ecosystem that is evolving to reach all areas of the real estate market globally, and its progressive advancement has been heavily relied upon across societies and industries throughout the pandemic.
Paving the way for the future of real estate around the world, Pi Labs launched its first property-technology focused accelerator in 2015. Since then, despite the global pandemic's economic fallout, interest in PropTech has grown immensely and horizons have been broadened as the real estate sector urgently seeks to rapidly update itself as the world settles into the 'new normal'.  By June, 2021 had already become a record year for VC deal activity in residential PropTech, and commercial is on a promising 2021 upswing. A lot of this investment is backed by legacy real estate firms seeking to adopt these technologies themselves.
How can PropTech contribute in regards to the Environmental, social and corporate governance (ESG) concept?
It goes without saying, the world's climate crisis has been – and continues to be – of global interest, calling for urgent and dramatic change. Data and research clearly highlights that technology will be instrumental in reversing damage and reaching ESG targets.
It is widely documented that the Real Estate sector is one of the world's largest contributors to carbon emissions, and across Europe the adoption of technology within real estate is being widely recognised as a key tool to address the climate crisis. In the UK where our head office is located, housing is directly responsible for more than 15 percent of the country's total emissions. In addition to that, business is directly responsible for around 17 percent… and that's without counting the emissions created by commuting between the two.
I am proud that Pi Labs is leading from the front, by investing in next-generation technologies to help address the environmental challenges emanating from the real estate and construction sectors.  I am also looking forward to help shape how industry and business leaders – alongside government officials – look to utilize the adoption of PropTech, a relatively new concept, to tackle climate issues and work towards environmental targets set by UK and European leaders.
Bright Spaces came to your attention through the Pi Labs Accelerator in 2020, how do you rate the company's evolution and what do you think about its perspectives?
Bright Spaces is a best-in-class technology platform that is reshaping how we view and lease offices.  Since taking part in our first ever fully remote growth programme back in 2020, they have continued to drive and deliver growth within a diverse and global market, raising a pre-seed and seed rounds, as well as securing key clients in Romania and the UK.  We are very pleased with our investment in the company.
Passionate about the future of office spaces and its user, Bright Spaces is ahead of the curve through its simplification of utilizing technology to enhance the commercial property pre-leasing process. The platform is at the forefront of new trends such as remote and virtual visualisation that have accelerated during the pandemic.
Are visualization and leasing platforms such as Bright Spaces a product of the pandemic and its restrictions, or was there a demand for such solutions even before the health crisis? Are they here to stay in the long run?
The real estate sector was already well on its way to becoming digitally-savvy and technology-conscious; the pandemic has simply accelerated this demand.  Commercial real estate developers who are adopting PropTech solutions such as this can unlock a strategic advantage by allowing their prospective tenants with multiple avenues of viewing their properties.  Globally, time-poor and tech-savvy occupiers are looking for a hybrid solution – one that involves both digital and physical viewings. BrightSpaces, with its state-of-the-art visualisation platform, is perfectly positioned to capture this opportunity.