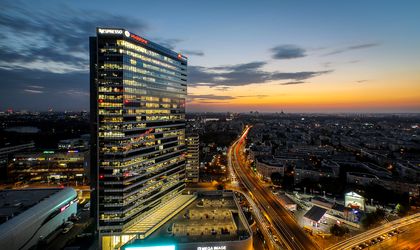 With a very dynamic global business environment, the Romanian economy is already adjusting to the new economic context, as growth settled to around 4 percent in 2019 from 4.4 percent in 2018 and 7.1 percent in 2017. With local elections coming soon, 2020 will be a challenging year for businesses. Still, there are some sectors which have registered robust development lately and thus have the potential to shine this year. Let's meet the stars of the local economy in 2020!
2020 is expected to be the best year in the post-crisis cycle for the real estate investment market in Romania, after total investments worth EUR 644 million in 2019. Deals worth at least EUR 600 million could be finalised this year in the office segment alone, which will be the star of the real estate investment market, according to the annual report released by Colliers International.
By Anda Sebesi
With some of the highest investment yields in Europe and given the volume of over half a billion euros' worth of transactions either secured or in advanced negotiation, the volume of real estate investments is expected to exceed EUR 1 billion in 2020, Colliers International consultants predict. Going forward, interest migrating from pure class A office buildings to those with a value-added angle or reconversions are trends to monitor in 2020. The hotel sector is expected to be active as well, supported by international brands that want to expand at a robust pace for several years to come, based on current plans.
At Central and Eastern Europe (CEE) level, the Romanian market last year attracted almost 7 percent of the total investment volume of about EUR 13.4 billion. Poland remained the leader in the region, with investment volumes accounting for 55 percent of the overall CEE6 total, at a record-breaking figure of about EUR 7.4 billion.
Speaking about how Romania compares with other countries in the region, Antoniu Panait, Managing Partner at Vastint Romania, says: "Romania has the potential to become a regional leader in terms of the real estate industry as well as multiple other sectors, as we have all seen the great number of companies that have relocated their headquarters to our country or have started a new branch here, along with startups that have grown extremely quickly. Therefore, the real estate industry will continue to evolve and explore its true potential if business is done well," says Panait.
Last year, the office market attracted more than 60 percent of real estate investments, with Bucharest and Cluj-Napoca being the most dynamic cities. The year's biggest deal was the sale of The Office by NEPI Rockcastle and local developer Ovidiu Sandor to Romanian-owned DIY chain Dedeman, for roughly EUR 130 mln, according to Colliers International data.
"The development of office buildings has not yet reached the maximum of its potential; there are many companies which are continuously growing their teams, which is why they've become interested in finding office spaces near residential areas to ensure easier transit for employees from their workplaces to their homes. In addition, developers have understood that in order to lease their projects have to include both functional spaces for businesses as well as areas where employees can relax and spend time. Real estate now means more than developing good looking buildings and using new technologies; it's also about creating communities," Panait adds.
Retail transactions represented nearly 24 percent of total volumes in 2019, according to the same data. The largest transaction, worth EUR 113 million, was made by MAS Real Estate for 8 retail projects it had developed together with Prime Kapital. Another important deal was closed by Indotek Group, which purchased Promenada Targu Mures for an estimated EUR 40 million.
The same source says that the industrial sector had a more modest performance in 2019, accounting for less than 10 percent of the preliminary figures, with CTP's purchase of A1 Bucharest Park for around EUR 40 million as the year's biggest transaction. In fact, the local industrial and logistics spaces market had the highest yields in the region, of up to 8.25 percent, compared to 6.5 percent in Warsaw, 7 percent in Budapest or 5.25 percent in Prague.
"We have a dynamic real estate market in which companies will continue to focus on office buildings in order to find the perfect place for thei employees,  near public transportation, while employees will be searching for residential areas that offer them not just a functional space to live in but also the possibility to spend quality time in the surrounding areas," concludes Panait.