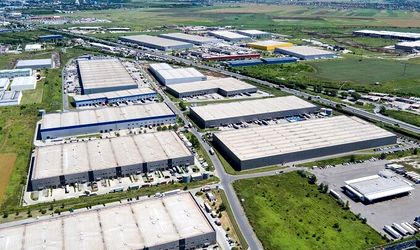 The areas outside northern Bucharest, such as Stefanestii de Jos and Chitila, have the potential to form a new logistics hub, according to real estate consultancy company Colliers International. Over 180,000 sqm of logistics space are to be delivered next year, as the west of the capital has become overloaded in terms of the development of industrial and logistic spaces.
"As we had estimated in 2016, the north of Bucharest is emerging as a future logistics hub, especially for e-commerce players. Our arguments regarding the area's potential were enough to convince one of the largest industrial and logistics developers in Romania, WDP, to invest in this area. The Belgian investor bought a 44-hectare land plot in Stefanestii de Jos, and in less than a year we managed to attract a very important tenant like LPP. We believe that these achievements are proof of Colliers International's vision in the industrial market," said Laurentiu Duica, director of the industrial department at Colliers International.
The 22,100 sqm distribution center developed by WDP, which will host the Polish LPP's e-commerce activities, is to be completed in the second half of next year, when WDP's real estate portfolio in Romania will exceed EUR 500 million.
WDP is not the only company looking at the north area of Bucharest. Market leader CTP also intends to build a 100,000 sqm industrial and logistic project on an 22-hectare area.
"We have so far focused on the west of Bucharest, but we have demands to develop spaces in the north-east of Bucharest as well. The land has 22 hectares and we plan to build 100,000 sqm in the next three years. We will start construction in 2020," explains Remon Vos, the CEO of CTP, a developer that reached one million sqm of built surface at the end of last year.
CTP group invested more than EUR 500 million in Romania, and at a yield of 8 percent. The value of its projects would amount to EUR 600 million at a rent of EUR 4/sqm/month.
According to Colliers International representatives, the northern part of the Capital is different from the west due to the attractive workforce costs and availability. In addition, delivery points for goods are closer to the north than to the west. "It is only natural that developers wish to build in these areas and we expect more than 180,000 sqm of industrial and logistics spaces to be delivered next year," the company said.
In 2019, developers should deliver about 600,000 sqm of logistics and industrial spaces, over 400,000 sqm of office space and 200,000 square feet of retail space, according to consultancy agency Cushman & Wakefield Echinox.