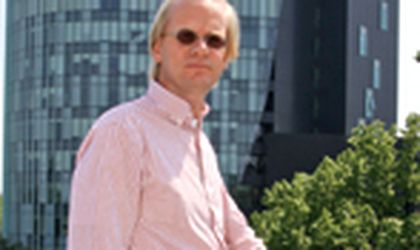 When asked whether the company had lost any money in the real estate down spiral, Edwin Warmerdam, the chief financial officer of developer Avrig 35, knocks on wood while saying no. The company has three projects under construction and a few others in advanced stages of planning. It has equity from previous sales, bank financing in place for most of its ongoing projects and a 5 million sqm land bank. It seems to be recession proof, but it still wants to share risk and is looking for strategic partners for some of its projects.
"This is the right moment to take joint venture partners on board, to manage to develop all the pipeline. There is only so much one can bear on one's shoulders," says Warmerdam.
Using partners is not a new approach for Avrig 35. The Iris commercial center in Titan was developed in partnership with Aerium, while Charles de Gaulle Plaza, the office building Warmerdam overlooks from the firm's rented offices across the street, was a development in partnership with CA Immo. Both projects were eventually sold to third parties, which is what Avrig 35 intends to do with the ones it still holds. But at the moment "we haven't asked for any offers, we are not exactly looking. There is nobody knocking on the door in the current market, just opportunistic buyers looking for distressed assets," says Warmerdam.
Meanwhile, the firm is working on its first residential project, a 60-unit building on Mihai Eminescu Street, and is planning some more residential properties. The biggest of them will be a planned 3,000-unit project in the Baneasa area of Bucharest, where the developer owns 35 hectares of land. "The Baneasa project will deliver affordable housing. We want to sell it for around EUR 1,000 per sqm. You get the volume of sales on the affordable market. Most people are looking for EUR 60,000-70,000 apartments, not for EUR 200,000 apartments," Warmerdam explains. The first phase of the project should deliver 750 apartments, but "this is not the kind of project which we will start this year, I hope we will do it next year," the CFO goes on. Two other residential project, but smaller and more upmarket, are also planned for Bucharest.
A 30,000-sqm office complex is also under construction on Avrig Street, close to the developer's former headquarters, the Avrig 35 building. The developer has owned the land for six years, but started the project last year, and hope to complete it in 2010. A third project soon to go under construction is the third phase of its retail project in Titan, which will add some big box retailers like World Class, Kiabi and Go Sport, expected for delivery in 12 months. The first two phases of the project were bought by investment fund DEGI, which has an option to buy this third phase too.
For the ongoing projects, Avrig 35 says it has attracted funding from several banks on the Romanian market, and is currently negotiating with BCR over a loan for the third phase of the Titan project. For the larger residential project in Baneasa, the developer is talking to a syndication of banks led by UniCredit. "We have been negotiating for a long period of time, because this is not the right moment to put a massive affordable residential project in the pipeline," says Warmerdam.
A partnership with Cascade Group is ongoing for a mixed project in Theodor Pallady area, where the developer owns 30 hectares of land. The project is planned to deliver 100,000 sqm of retail, residential and some offices. "But it is wishful thinking that under these market circumstances we would be able to attract financing at reasonable commercial terms," says Warmerdam, so this is a project to begin later on within a two-year time frame.
A partnership with Industrialexport was used for Bucharest Tower Center office building too, but the project, which was completed in autumn last year, is yet to be leased. "We have agreed with our partners on the leasing strategy and we are ready to accept leases […] The building was originally in a pre-sale agreement for 40 percent of it to
Alpha Bank, and our partners are still negotiating with them over the contractual terms," Warmerdam adds.
Countrywide, Avrig 35 is asset manager for the office portfolio it has sold to NEPI and in charge of leasing some of the space there, and is refurbishing an office building in Brasov, also sold to the same fund. It has similar plans for an office building in Constanta, which could also be acquired by NEPI.
Its plans for the future include a chain of commercial centers with additional office and residential spaces in several cities such as Focsani, Buzau, Piatra Neamt, Suceava and Timisoara. "In the past we felt it was an unacceptable risk to start only with the food anchors and the do-it-yourself stores, so at this stage we would like to obtain a much higher pre-lease percentage. If we have 50 percent of the galleria leased out, then we think we should put it under construction, and we can finance it," Warmerdam explains. A standard investment in such a project, some 30-40,000 sqm of space, would cost around EUR 50 million.
The group of investors who own Avrig 35, including Alexander Hergan, have not only looked at real estate in Romania. Its non-real
estate activities, managed through an investment fund, include companies like glass facade producer Flexxelf, TV station Pratech TV and Pratech Production. It also owns several master franchises, like retailers Cache-Cache and Go Sport, and is looking at adding several others.
By Corina Saceanu