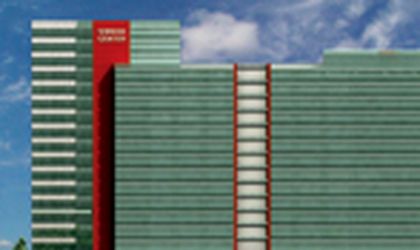 The partnership with the IFC, sealed in May last year, includes a capital increase for Soravia Real Estate Development and mezzanine financing for projects in the CEE region, the former CIS countries and Central Asia.
The Mihai Bravu building complex, for which Soravia has already received approvals from the Bucharest municipality, will spread over 16 floors, and will deliver 4,000 sqm of retail area as well. With construction works expected to start in the first half of this year, the office project will be finished at the end of 2011, the company expects. The project will cover 104,500 sqm of built area and will be built on some 7,700 sqm of land.
Soravia's underway Metropolis center, which will deliver 29,000 sqm of mixed offices, hotel and retail area, is currently 90 percent leased and will be delivered in April this year.
Soravia has completed two office project in Bucharest, a 2,300-sqm office building called Casa Mosilor, and the 1,000-sqm Smart office near Bucharest Otopeni airport, both acquired by Equest Partners in 2007. Further on, the Soravia group plans to build a shopping mall on the northern outer edge of Bucharest, in Stefanestii de Jos. The Stefanesti Shopping Center, constructed on a land plot of 29 hectares, is due to be completed in stages by 2015. Overall prospects for the Bucharest office real estate market in the next 18 month still remain very good, says the firm. "The combination of on-going strong demand and initiated developments sustained by significant pre-lease activity recorded during the last month indicate a further market growth on the short term but at a lower level than one year before," Karl Goeth, managing partner with Soravia in CEE, told BR. Clients will take a closer look at the advantages and disadvantages of a project, such as traffic connections, public transport, floor shapes and the efficiency of the building. This could lead to some developments with bad traffic solutions or out-of-date technical equipment suffering from low occupancy, Goeth predicts.
Corina Saceanu