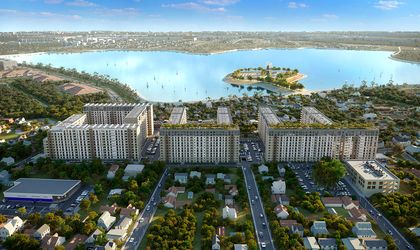 Aqua City won the "Most Powerful Positive Impact in the Community 2021" award at the 7th edition of the Real Estate Awards Gala – one of the best-known events that rewards real estate performance. The award, offered after an extensive analysis of 2 independent juries consisting of real estate experts, aims to highlight the positive contribution a residential project has had in the community.
The social and civic projects for Giulești community, where the Aqua City real estate complex is located, along with the contribution for the urban regeneration of the area impressed the jury and helped the project win the award in the category Best positive impact in the community, where other 3 residential projects have been nominated. The jury also acknowledged Aqua City's efforts to finance and distribute for free the first newspaper in Bucharest dedicated to an urban community, with relevant topics for residents of the Giulești-Crângași-Lacul Morii area. Likewise, as a partner and sponsor of football team Rapid Bucharest, Aqua City supports training for disadvantaged children from Giuleşti who have a great potential in developing of a sports career.
"We are glad that our efforts to bring value to the community of Giulești have been recognized by this award, offered by well-known professionals in the industry. We aimed to show that beyond the development of a real estate project aligned to our customers` needs, Aqua City also has a responsibility towards the extended community. Thus, some facilities and services in Aqua City, such as the educational center, the Spa center, the commercial area and even the green spaces will also benefit the inhabitants of the area. Aqua City certainly has a positive impact in Giulești area and contributes to the development of the neighbourhood", said Adrian Rus, broker-owner of RE / MAX Action and Head of Marketing and Sales for Aqua City.
The Aqua City real estate project was nominated in 3 other categories: Best mix of services and facilities, Best urban regeneration and Best mixed-use project.
Aqua City offers various facilities to its residents, who will create a sustainable community, centered around the idea of wellbeing: green spaces, playgrounds, educational center, spa center, sports fields, 24/7 security and a Lidl store. The project, designed to ensure a high degree of comfort for future owners, has an innovative concept: Aqua City is the first residential complex in Romania that provides purified, naturally treated water, without chemical processes, that has a higher quality than the public water network, at the tap of each apartment in the complex.