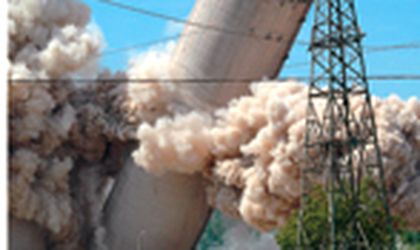 Around 45 percent of the old factories in Bucharest have been or are on their way to being transformed into residences, mixed projects or office buildings. Overall, around 13 percent of the capital city's land is covered by old, some still-unused factories. This is reason enough for demolition companies to rejoice. Several years ago, their business was a niche ready to take off, as it was clear these old properties were to make way for new developments.
However, there are not many companies in Romania specializing in demolition services, as this alone would not sustain their business. The typical process was for construction companies to develop a demolition division.
This happened to construction company Apolodor. The firm makes around EUR 6 million per year on demolition projects, with the remaining EUR 32 million – the turnover in 2006 – being brought in through infrastructure, roads and networks, Radu Ouatu, manager of Apolodor, told Business Review.
Although the activity seems profitable, few companies are active on this market niche. Ouatu estimates there are only five or six firms in the country which actually own demolition equipment, of which only two or three are able to demolish any kind of building. However, when it comes to demolitions using explosives, there are tens of small companies active in the field, says Ouatu.
The market itself is not that big at the moment. It reaches some EUR 14 million, adding the turnover of companies active in the field, believes the Apolodor general manager.
The biggest demolition companies are located in the capital, but most of their activity is outside their main location. Apolodor had a three-year contract with construction materials producer Lafarge to partially demolish its factories in Medgidia, Targu Jiu and Hoghiz. Ouatu says it was the most complex demolition carried out by the company.
The big demolition projects have started and many will follow. Examples include Titan bakery, which was obliterated to leave room for Hercesa's apartment complex, and the unfinished building in Rahova, demolished to prepare the way for the future Mivan's Liberty Center mall.
The most common demolition projects nowadays are those of industrial facilities located in residential areas to leave room for apartment blocks or offices, says Ouatu.
Corina Saceanu