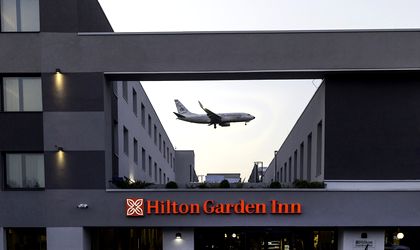 Apex Alliance Hotel Management opened on Saturday the first hotel located inside an airport in Romania, namely Bucharest's Henri Coanda International Airport. Hilton Garden Inn Bucharest Airport has 218 rooms and targets business travelers and airline staff operating on the Henri Coanda Airport, and is also a solution for passengers with canceled or delayed flights. The company's management estimates an average occupancy rate of 70 percent.
With an investment of EUR 19 million, Lithuanian investor Apex Alliance Hotel Management continues, in partnership with consulting firm Optim Project Management, its series of hotel openings in Romania, with the new Hilton Garden Inn located just 150 meters from the Departures terminal of the Henri Coanda Airport.
Hilton Garden Inn Bucharest Airport belongs to the Hilton chain's "focused hotels" segment and has an accommodation capacity of 218 rooms in the Superior and Standard categories, as well as rooms for the disabled.
With a modern, functional design, the new hotel has 5 conference rooms with a total area of ​​225 square meters, which can be divided according to needs. In addition, the rooms are equipped with desks, ergonomic chairs and wi-fi to ensure a comfortable and efficient working environment for clients in the business area.
"We address and already have requests from companies that carry out business activities in Bucharest and nearby cities – Ploiesti, Constanta, Galati, Braila, Pitesti – but also those who need an accessible, functional space, with a direct connection with the airport, so that their business activity experiences the least distraction from external factors, such as traffic to and from the center of Bucharest," said Anca Madalina Cristea, the General Manager Hilton Garden Inn Bucharest Airport.
The average length of a stay at the Hilton Garden Inn Bucharest Airport is estimated at one night's accommodation, and the occupancy rate is estimated at 65-70 percent. The hotel expects to receive a large share of same-day booking requests, as the occupancy rate will be influenced directly by the flights at Henri Coanda International Airport. The prices start from a promotional price of EUR 69/room, and they will later be aligned with the market and vary depending on circumstances like major events.
Along with the hotel opening, the Wright Flyer Restaurant has also opened, promising a treat for the senses through its unique approach and ingredients mixes from around the world. The restaurant will have a capacity of 126 seats and offer complete services – breakfast, lunch and dinner, as well as room service.
The hotel also has a self laundry service, a 24/7 store, as well as an underground parking, available for a fee.