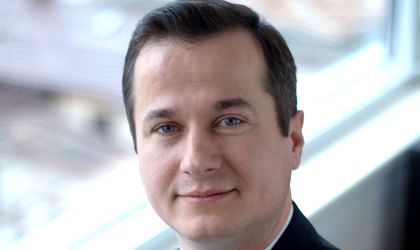 Vastint Romania will continue to expand its mixed-use location in Timpuri Noi and plans to add three new buildings in this location by the end of 2020, increasing the total rentable area to over 100,000 square meters, says Antoniu Panait, the managing director of the company. He told BR in an interview about the demand trends in the office market and strategy to develop tenant community programs in its existing office portfolio.
What are some of the strategic moves and updates in the Romanian real estate sector in 2019?
The office real estate market is posting sustainable healthy growth, take-up has increased and new projects have been delivered. The overall modern office stock in Bucharest increased too by 195,000 sqm, with Business Garden Bucharest and the third building from Timpuri Noi Square representing almost a third of that volume. 
There's more interest now on behalf of developers in mixed-use projects – offices and residential, developed in up-and-coming areas of the city. Both approaches come as responses to market and consumer needs and we were one of the promotors of this trend, with the evolution of Timpuri Noi Square showing that getting close to your clients, providing an easily accessible project, can only lead to a success story.
What would you say is the most important trend on the local real estate market? What is Vastint's approach from this perspective?
Tenants are more and more interested in offices closer to home and in locations offering "micro climates". Vastint looked for accessible locations, with both the Timpuri Noi and Orhideea areas offering our tenants and their employees reduced commutes. Studies show that employees from the younger generation wouldn't spend more than 20 minutes getting to work and will not consider a job offer if the new office would mean a commute of more than 30 minutes. Timpuri Noi Square offers a large plaza and will include in the future new amenities and a residential component. On the other hand, Business Garden Bucharest provides large outdoor green areas, a real garden between the office buildings so that employees can work outside, enjoy the greenery and relax in the heart of the city. 
What's your outlook for the property market in 2020?
The market will continue growing as there's demand for modern, high-quality properties, people-centered developments. We plan to start construction works for the next three buildings in Timpuri Noi Square and, if possible, to take the first steps with our residential project in the Sisesti area. 
What projects are being developed by Vastint Romania and what is their status?
Vastint Romania has three projects in Bucharest. The first is Timpuri Noi Square – a mixed-use project located as its name states in Timpuri Noi, which is being developed in several stages due to its size. The first three buildings are completed, totaling 53,000 sqm of modern office and retail space that is almost fully let. The project reached an over 90 percent occupancy rate and we expect to reach full occupancy before the end of the year. The next development stage will include another three buildings, increasing the overall rentable area to over 100,000 sqm. Timpuri Noi Square has welcomed great brands and businesses with amazing cultures and innovative projects like Biutiful Downtown, Carnivale Food Market and a theater like Godot which is coming to create new experiences and complete our retail and services mix. The second is Business Garden Bucharest – a single-phase office development located in the Orhideea area, with 43,000 sqm of office and retail premises in three buildings, completed this year, which has already reached a 65 percent occupancy rate. The third is Sisesti – a 48 hectare plot of land acquired by Vastint Romania in 2016 for which we have in mind a residential development, currently in the planning stage.
What are the demands of clients in the property sector? Could you name the top three needs or arguments for choosing a location?
There are many check boxes on office requirement lists. Studies show 78 percent of employees from the millennial generation consider the quality of the work place when choosing an employer. Moreover, an eJobs study tells us that employees would accept a lower salary just to work closer to home. 
So the top three would be: ease of access, work closer to home; quality of the building/office premises; amenities.
How different are the needs of clients based on their industries? For instance, companies in IT compared to players in the banking sector?
The IT industry is the most active one in the market, with the fastest growth pace and facing quite a few HR challenges. So IT companies are the first to implement the latest trends in terms of office layouts, amenities, and recreational areas. Nevertheless, all tenants are looking for quality and space efficiency, a large variety of services and most importantly, no matter the industry, easily accessible locations. 
Is Vastint Romania exploring real estate investments beyond Bucharest?
We are focusing for the moment on our projects in Bucharest and we constantly assess new development opportunities.
Have you seen any major changes in Bucharest based on the strong development of real estate projects in the past three years? How does this translate into the lives of citizens and the overall architectural footprint of the city? Can communities emerge around these projects?
Bucharest, like any other large capital, evolves and has to keep up with technological advancement and demographic changes. In the past few years office real estate projects have followed a new trend, getting closer to existing residential communities and infrastructure and, wherever there was room, new residential units and amenities have been developed. Generous green areas like that which our Business Garden concept provides, or quality public areas making new services and amenities available to the larger community, as is the case of Timpuri Noi Square, are proof that we are promoters of this trend.
What are Vastint Romania's development plans for 2020?
We plan to start construction works for the next three buildings in Timpuri Noi Square. As for the existing projects we plan on developing tenant community programs with the aim of improving the working environment and the overall life / work balance. We shall keep assessing opportunities for developing new real estate projects and increasing our portfolio in Romania.