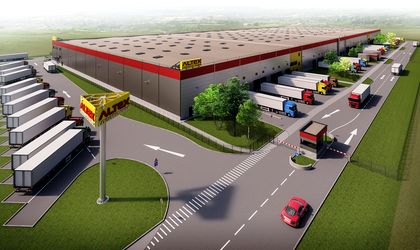 Altex Romania will develop a new logistics center near Bucharest, in Dragomiresti Vale, on a land of 15.2 ha, which was purchased from the free market with the sum of approximately EUR 5.5 million.
The new logistics hub, which represents a total investment of more than EUR 37 million, consists of two main storage buildings of approximately 90,000 sqm total area and 46,000 sqm of external logistics platforms, the design and construction to be carried out by GSE Romania, selected for its experience and for the innovative technical solutions to be implemented in the project. The first phase of the project will be 80 percent financed by EximBank and will be completed in the first quarter of 2019. The second stage of the project is to be developed next year and requires an investment of EUR 15 million for which Altex Romania is looking for funding.
"The new logistics center will build on today's 4-storey business, providing better availability for a wide range of faster delivery products and services to our customers. This investment reduces operational costs by supporting Altex's promise to offer its customers a wide range of products and the lowest price in Romania," said Dan Ostahie, CEO of Altex Romania.

"EximBank respects its strong commitment to supporting the business environment and by concluding this new agreement with one of the most important Romanian entrepreneurial companies, the top player in the market on which it operates, continues to consolidate its position as a preferred business partner by the elite of business. We are convinced that the agreement with Altex is only a first step in a partnership that will run for a much longer term. And that's because our concern remains to build a solid relationship with the business environment by supporting companies that want to consolidate sustainable business models," said Traian Halalai, executive president of EximBank

Dragomiresti2
The new logistics center developed by Altex is designed to accommodate all types of products, from large home appliances to IT components and accessories. This modern facility will be served by 60 access ways and the 4 last-generation lifts, each with a capacity of 1.7 tons, will serve the E-commerce area. Lighting will be provided by a state-of-the-art LED system designed to be used in differentiated motion conditions. The new logistics center will improve working conditions for over 200 employees working in 3,500 square meters of offices and administrative areas, with modern working conditions, training and relaxation areas.
 "We are proud that Altex has entrusted us with this strategic project. The new 90,000 sq m logistics center will serve to support Altex growth, and our experience in designing and building logistics space related to the electro-IT sector will contribute to the successful delivery of this project," said Dan Baloi, Director of Development, GSE Romania SRL.

Dragomiresti3