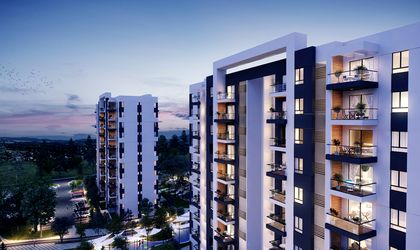 Israeli group AFI Europe Romania announced that it will start building the second phase of the AFI Tech Park office complex and a retail park in Arad, and that it will conclude the first phase of the AFI City construction next year, while in 2020 AFI Brasov, which includes a mall and two office buildings, will be delivered.
After having finalized the first phase of AFI Tech Park at the end of June, AFI reached a 60 percent occupancy rate and hopes to get to 75 percent by the end of the year. The second phase will begin construction next year.
AFI Tech Park is a business park with a ​​56,000 sqm leasable area, located in central Bucharest.
AFI will also open a retail park in Arad next year, on an 8-hectare plot that the company bought 10 years ago and will have a 10,000-square-foot hypermarket, DIY, fashion and electronics stores.
Also in 2019, the company will complete the first phase of residential project AFI City. The first phase will have two buildings that will total 190 homes, served by 228 over-ground parking spaces, with 80 percent of them sold until the end of this year. In addition, near AFI City, the company will also build a shopping center on the Bucurestii Noi boulevard in 2019.
EUR 40.6 million in income for AFI Europe
"We are pleased to announce that AFI Europe Romania kept growing in the first nine months of 2018, marking a consistent 8 percent increase in net operating income, reaching a total of EUR 40.6 million. We continue our expansion in Bucharest and other cities in Romania, continuing to diversify our portfolio in all areas of the real estate market – retail, office and residential. Currently, our trading portfolio includes more than 200,000 sqm of our assets, 60,000 sqm of leasable development and 70,000 sqm of leasable buildings that we will develop in 2019. In addition, next year we will also see the first apartments built by AFI Europe in Romania, as the first phase of AFI City will be completed by the end of 2019," said Doron Klein, CEO of AFI Europe Romania.
Finally, the company announced that it will open AFI Brasov in the spring of 2020, comprising a mall with a 45,000 sqm leasable area and two class A office buildings with 25,000 sqm.