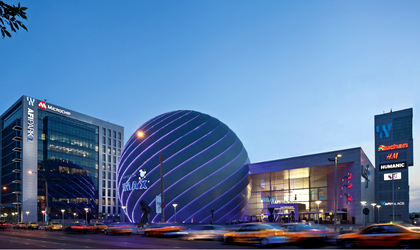 The Romanian subsidiary of real estate company AFI Europe has a posted a EUR 46 million net operating income (NOI) in 2016 which was up 15.5 percent against the previous year, according to company data.
The company's flagship property on the local market, the AFI Cotroceni shopping mall, has reported a EUR 33.8 million NOI, up by 10 percent against the previous year and about 46 percent compared to 2009, the year when the mall was opened. According to AFI Europe's valuation, the mall is now worth some EUR 140 million. Retailers present in mall posted a combined turnover of about EUR 240 million last year which was up by approximately 9 percent. At the same time the number of visitors was up 4 percent. The 85,000 sqm shopping mall was 99 percent occupied at the end of last year and it is set to increase it's GLA to 90,000 sqm after securing Peek&Cloppenburg as tenant.
AFI Ploiesti, the developer's second mall on the local market posted a 6 percent NOI increase last year (EUR 4.5 million) while AFI Park, the 70,000 sqm office project near AFI Cotroceni reached a 99 percent occupancy.
At the end of last year, AFI Europe Romania started the construction of its second office project in Bucharest. AFI Tech Park will be a 50,000 sqm gross leasable area (GLA) business park located close to the J.W. Marriott Hotel and the Romanian Parliament. The first phase of the project, comprising 20,000 sqm GLA, will be delivered in the first quarter of next year, according to company data.
The developer says it is currently also planning a 45,000 sqm GLA shopping mall and a 20,000 sqm GLA office project in Brasov, central Romania. "In the near future", it also wants to develop a retail park on an 80 ha plot of land it owns in Arad, western Romania, and a mixed-use project on a 148 ha plot it has in the Bucurestii Noi neighborhood of Bucharest.
Simona Bazavan