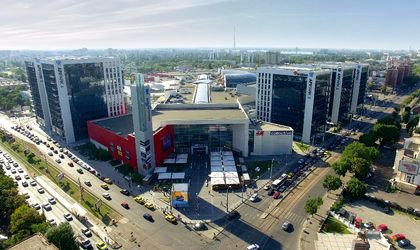 AFI Europe Romania published its financial results for the first six months (S1) of 2018 and according to the data, the net operating income (NOI) from revenue generating assets reached EUR 27 million, registering a 9 percent increase over the same last year (from EUR 24.7 million).
AFI Cotroceni, the biggest and most successful mall in Romania, reported a net operating income of EUR 18.1 million, 8.2 percent higher than in S1 / 2017. The number of daily mall visitors increased by 9 percent. Retailer sales rose to EUR 120 million, up 7.5 percent over the same period in 2017.
AFI Cotroceni's market value amounted to EUR 545.5 million on June 30, 2018, 9 percent higher than the figure recorded in 2017. The mall occupancy rate is 98 percent of the total leased area (GLA) of 90,000m2, hosting some of the region's largest stores for retailers such as Zara or P & C.
After another successful year, the AFI Ploiesti Mall, with a total rental surface area (GLA) of 34,000 m2, generated a net operating income of EUR 2.4 million in S1 / 2018, while retailer sales increased with 10 percent, reaching 29 million in the first half of this year. With a 99 percent occupancy rate, thus maintaining the level of last year, the mall reported a 2.5 percent increase in the number of daily visitors over the same period last year. According to data available on June 30, 2018, the market value of the mall was 68.5 million.
With 5 office buildings in the AFI Cotroceni neighborhood, the AFI Park 1-5 complex, with a total rental surface area (GLA) of 70,000 m2, had a net operating income of EUR 6.5 million, an increase of 11 percent compared to S1 / 2017. With an occupancy rate of 100 percent, the total market value of the office complex reached EUR 175 million, up 6 percent year-on-year.
"I am glad to announce that the total value of the company's portfolio in Romania is 11 percent higher than in 2017, reaching EUR 818 million. We continue to expand our projects with new acquisitions, such as AFI Cotroceni and AFI Park, but also building on the land we own with projects such as AFI Tech Park or AFI City in Bucharest or the rest of the country like that be AFI Brasov. We are constantly improving the performance of our properties and looking for new opportunities to strengthen our solid market position," said Doron Klein, CEO of AFI Europe Romania.
AFI Tech Park, a new revenue-generating asset for AFI Europe Romania, opens its first AFI Tech Park 1 building in the second half of 2018. AFI Tech Park 1 has a 50 percent occupancy rate, with tenants companies in multiple industries who have decided to relocate their operations in the city center. With a leasable area of ​​22,000 m2, AFI Tech Park 1 is pre-certified LEED Platinum and will include a fitness room, restaurants and a membership card offering varied discounts to employees working in the complex. The market value of AFI Tech Park 1, which was finalized in June 2018, is EUR 29 million.
AFI Brasov, the joint retail and office project, will open in 2019, already having a 85 percent occupancy rate. The Mall will offer a total rental surface of 45,000 m2 and will include 200 stores and two Class A office buildings with a total rental surface of 25,000 m2 will be integrated into the project.
AFI City, the first residential project of the company in Romania, was started in 2018 with the start of construction works and the completion of the first phase of the project is scheduled for mid-2019. Thus, the first 190 apartments will be ready within one year days, thus marking the presence of the company on the local residential market.