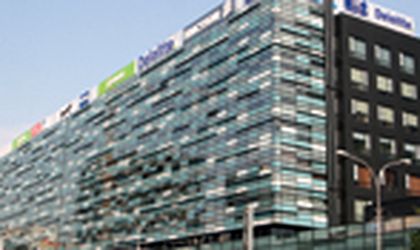 The company is underway with opening a local office in Bucharest, which will manage its existing assets in the country and support the investments team. The Romanian branch will be headed by AEW Europe's Prague office's former manager.
Of the EUR 500 million spent so far of PBW II fund, Romania has received a little less than half, two projects having been acquired in the country. Although no plans have been made regarding how much exactly will be allotted to the country of the remaining EUR 500 million in the fund, Mokrzycki estimates a similar ratio will be used, depending however on specific opportunities. The remainder of the financing is to be spent in the next one to two years. "We cannot invest it all in Romania," says Mokrzycki. However, AEW Europe would like to purchase more in the country, but its appetite is not matched by enough suitable properties to buy. "We would like to buy good offices in Bucharest, but there are hardly any," Mokrzycki told BR. The company finds few suitable possibilities of forward-purchases as well.
AEW Europe is looking at offices in Bucharest, and at retail and logistics across the country. The minimum size of the deal would be EUR 40 million. "The perfect size for us would be around EUR 100 million. EUR 200 million per deal would be too much," Mokrzycki added. While not looking at developing projects itself, the company is not however ruling out partnerships with developers.
AEW Europe bought last year through the PBW II fund the America House office building in Bucharest for EUR 120 million from GTC and, more recently, the European Retail Park in Targu Mures from BelRom, for EUR 90 million.
"With America House, we participated in a tender for the project. In total, it took us six weeks to finalize the deal," Mokrzycki reveals. AEW Europe needed two months to seal the deal with BelRom, after having been approached by the developer. "We're usually active and don't wait for owners to come to us with proposals," he says. But when this happens, owners usually don't put a price tag on their property, and wait for AEW Europe to come forward with a price.
AEW Europe had been monitoring Romania for a long time before deciding to move in, trying to understand how the market worked here, but chose to step in last year as the investors in its funds do not like to put their money in exotic countries. The country's EU entry was a big factor in the decision making, says Mokrzycki.
Corina Saceanu