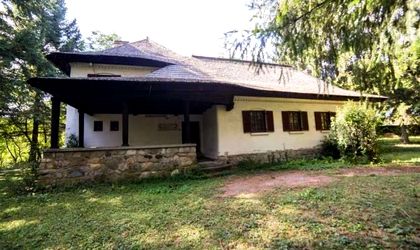 Whom of us doesn't dream himself or herself living in mansion or a castle? And some of us make it, or at least become owner of such a property and some times pay a lot of money for it, even if the state rarely protected historical patrimony properties. Luckily the trend started to change, and people become attracted of these properties for a home, or a business.
"We have people interested. Romanian business men or women, foreign investors, things started to change, but to sell such a  property is a complicated and complex work," Constantin Prisecaru, managing partner of Artmark Historical Estate told BR.
Castles and mansions sold this year
1. Bujoiu Mansion from Balotesti – sold for EUR 900,000.
Spread over an area of ​​17,000 sqm, 15 km from Bucharest to the north, the field of Bujoiu industrialist in Baloteşti can get other valences by rehabilitating the beautiful Neo-Romanian mansion and developing a residential complex around it.
A 5,500 sq m of park with mansion as a central element a built area of 994 sqm and a footprint of 331 sqm, the building has 16 rooms.
Built by Ion Luca Niculescu, a member of a liberal family of merchants and industrialists in Bucharest, the mansion was built according to the plans of the architect Statie Ciortan, an important representative of the neo-Romanian style in the first decades of the 20th century.
2. House with pharmacy Gheorghe Hotaranu, Bucharest – sold for EUR 850,000.
At the intersection of Vasile Lascar and Maria Rosetti streets there is the building that housed the residence and Gheorghe Hotaranu Pharmacy. The building, with basement, ground floor and three floors, was designed by the architect Statie Ciortan and built by the Italian entrepreneur Ernesto Mazzolini in 1925.
The property is built on a 125 sqm plot of land, it has a 502 sqm built area and a usable area of 415 sqm. The monument has 18 rooms and 5 bathrooms.
3. Salbek Castle, Petris, Arad – sold for EUR 600,000.
In the documents of 1778 it is mentioned that Petris and the villages of Corbesti, Obarsia and Rosia belong to the Salbeck family. Count Salbek comes from a family of Germans with inclinations of Catholic fanatics derived from Salbeck Matei, who first had been the secretary of the Moldovan Principal and then in 1733 had been a salin commissioner in Hunedoara County.
After the rebellion in 1784, at Count Salbeck's order, the old settlement of Petris disappears and all households are moved to the new hearth, around the castle. The rebuilding of the Salbec Castle is under way, and the work is provided by the serfs in the village.
Rebuilt between 1800 and 1850, the castle surrounded by 16,7 hectares of land, it has a 983 sqm built area and a footprint of 450 sqm and 24 rooms.
4. Olga and Nicolae Greceanu Mansion – sold for EUR 400,000
The Greceanu mansion is located in the northern area of ​​Oltenia, in the village of Maldaresti in Valcea. Just 4 km from the UNESCO Heritage Horezu Ceramic Center, the mansion, part of the Greceni Family historical area, has a collection of monasteries, huts and natural attractions in its neighborhood.
The 8 rooms mansion and other 10 annexed buildings, totaling 2,800 sqm, are located on a 21,500 sqm land plot, bordered by a stream of water and surrounded by secular trees.
5. Dimachi-Arghiropol Mansion, Gugesti, Vaslui – sold for EUR 60,000
The story of the mansion in Gugesti begins in the eighteenth century, when demnitary of state Nicolae Dimachi and his wife Miclescu Pulcheria built a family home.
The mansion has 18 hectares land, a 600 sqm built area, 500 sqm usable area and 10 rooms, but, unfortunately is in advanced degradation state.