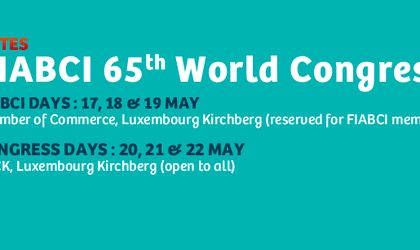 The 65th edition of the FIABCI international summit dedicated to the real estate industry will be held in Luxembourg on 20, 21 and 22 May 2014. Conferences, debates and workshops will be held during the three-day event covering areas such as building, architecture, design, brokerage, property development, investment, project management, finance, expertise, funds and more. Over 1,500 professionals from about 60 countries are expected to take part to the event.
The program will be split into half days, each dedicated to specific topics. The event's main theme is 'building humanity' while other topics to be addressed are real estate opportunities, cities & technology, finance & tax and architecture & urban design.
Some of the international speakers that will join the event are economist Jeremy Rifkin, Zhang Yue, the chairman and president of BROAD Group, Robert James Oliver, international asset and property management professor and Rudy Ricciotti, architect & engineer.
The winners of the FIABCI Prix d'Excellence will be announced on May 21st during an international ceremony. Awards will be given for 14 distinct categories: environmental (rehabilitation/ conservation), heritage (restoration/ conservation), hotel, industrial, master plan, office,  public infrastructures/ amenities, residential (high rise), residential (low rise), retail, resort, rural (homestead development), specialized project (purpose built) and sustainable development.
Founded in 1948, FIABCI, the International Real Estate Federation, is a business organization of real estate professionals worldwide. With membership including 100 professional associations, themselves representing over 1.5 million members, 65 academic institutions and 3,000 individual members from all professions of the real estate sector, FIABCI is the most representative real estate organization in the world, according to its data.
Members are located in over 65 countries on all continents. FIABCI holds special consultative status with the Economic and Social Council of the United Nations.
For more information go at www.fiabci65.com.
Simona Bazavan