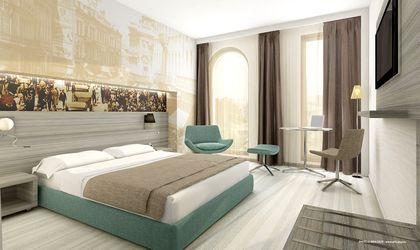 The offer of hotel rooms in Bucharest will increase this year by 10 percent, according to an analysis by Colliers International, showing that there will be a record of delivered. But, despite the competition, operating figures should improve as Romania holds the Presidency of the Council of the European Union in the first half of the year, which will generate around 50,000 overnight stays in Bucharest hotels.
Two years ago, Colliers International estimated a re-launch of the hotel market and the introduction of new brands on the Romanian market. In 2019, the offer of rooms will increase by 1,500 units, with the inauguration of four major hotels, including new brands: Indigo (courtesy of Intercontinental), Courtyard (by Marriott), Autograph (by Marriott) and Corinthia Hotels International.
"The main question when talking about an increase in the stock of rooms by over 10 percent is if there is enough demand. There is a risk that these deliveries record putting pressure on the price per room, but we have to mention that the normal trend would be the rise in prices. Phenomena such as changing tax policies, raising the minimum wage by 44 percent from 2017 so far or increasing construction costs by 20 percent over the past two years should be echoing a 10 percent increase in hotel room prices in the course of 2019," said Raluca Buciuc, head of Valuation Services and Hospitality Advisory Services, Colliers International.
In addition to motivating hotel profits, maintaining or even increasing room prices may also come from reasons closely related to the local market. One such element is that 90 percent of the rooms delivered in Bucharest in 2019 will operate under the management of major international brands such as AccorHotels, Hilton, Marriott or IHG (Intercontinental Hotels). Apart from the Presidency of the EU Council, the hotel activity will continue to be intense as the George Enescu International Festival will be held in the autumn, followed by the European Football Championship (UEFA Euro 2020).
"In the capital there are currently about 11,000 hotel rooms, which, compared to the city's population, is half of Budapest. If we look at the price per room and the number of international brands present in Bucharest, they are all below the level in the region. In the short term, a 10 percent increase in stock can impact the profitability of operators, but in the long run, demand growth will be higher than supply growth, and then the hotel market will be very attractive, including for investment transactions," concluded Buciuc.