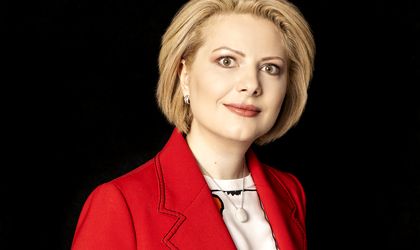 Violeta Luca, General Manager of Microsoft Romania, has been appointed to lead Microsoft's operations in the Czech Republic and Slovakia, starting with January 2021.
"It is an opportunity that makes me happy and honors at the same time, through which I aim to add value to the new capacity, to further develop and support digital transformation projects on a large scale. I strongly believe that technology is more than ever the solution to support the resilience and sustainable development of society. And, given the talent that our country has proven to have in the field of IT&C and beyond, I have no doubt that Microsoft Romania will continue its remarkable path to which we have had the privilege of contributing. Last but not least, I want to thank the team, all the clients, partners and organizations I have worked with and I send them my best wishes ", said Violeta Luca.
Violeta Luca took over the management of Microsoft Romania in November 2018, during which time the company experienced a period of growth and marked important moments in its development. Among the achievements we mention: the "Alt Viitor" program – through which Microsoft supported the development of digital skills for tens of thousands of students and teachers in Romania; numerous projects for the digital transformation of health services, retail, banking and professional services or at the level of the education system, as well as extensive projects aimed at developing Romanian start-ups, through technical support from Microsoft, access to Azure resources and so that they become competitive at regional level and can expand their activity in European markets.
Also, Violeta Luca was appreciated for the innovative business model and their development capacity, as well as for the best digital transformation project and the best corporate responsibility campaign, and under her leadership, the company Microsoft Romania was designated the number 1 employer in the country.
Until the announcement of the new general manager of Microsoft Romania, the interim will be provided by Alina Orban, currently Commercial Partner Lead, within Microsoft Romania. Violeta Luca joined the Microsoft Romania team at the beginning of 2015, as strategy director, and later, until 2017, she held the position of Marketing and Operations Director. Before joining the Microsoft Romania team, Violeta Luca held top positions in the management of companies such as Metro C&C, Dante International, Flanco Retail, Whirlpool Romania or AIG.