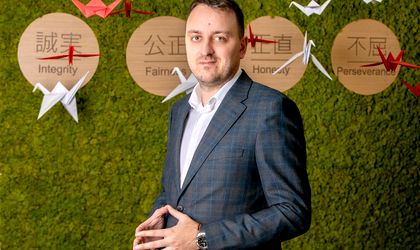 The bio-pharmaceutical company Takeda Romania announces the appointment of a new Country Manager for its operations in Romania. As of January 1, 2023, the role will be taken over by Todor Kesimov, who has been with the company since 2012.
With a 10-year career within the company, Todor Kesimov held the position of Country Manager in Bulgaria until recently. He started his activity within Takeda as Business Controller for Romanian and Bulgarian market, and he also held the position of Finance Director in the Balkan region. Until recently, he fulfilled the role of interim Country Manager for Romania while also coordinating the activity in Bulgaria. Todor Kesimov is a board member at the Bulgarian Association of the Research-Based Pharmaceutical Manufacturers (ARPharM) and also at Japan-Bulgaria Business Association (JBBA).
"I am delighted and honored to be reuniting with the talented Takeda Romania team and continue our journey towards better patient care. I look forward to delivering against Takeda's bold ambitions over the coming years to continue to drive innovation across our 4 major therapy areas – oncology, gastroenterology, hematology and rare diseases", said Todor Kesimov, the new Country Manager of Takeda Romania.
The new Takeda Country Manager is fluent in Bulgarian, English and Russian and also holds a BA (Hons) in International Business and Management Studies from Regent's Business School, London.
"I trust that the commitment and professionalism shown within the company over the past 10 years will help Todor successfully carry forward our mission to improve patients' lives through access to innovative therapies. I would also like to take this opportunity to thank Cristina Barbu, who has chosen a different career path, for her leadership and significant contribution to the company in the Country Manager role that she held until recently", said Kieran Leahy, Takeda Eastern Europe Head.