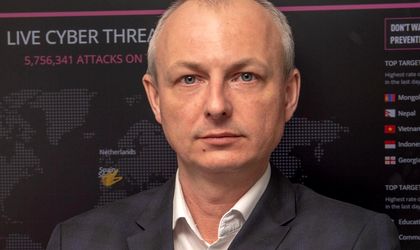 Safetech Innovations, a Romanian cybersecurity company listed on the Bucharest Stock Exchange with offices in Bucharest, London, and Abu Dhabi, announces the appointment of Ionut Georgescu as Chief Operating Officer (COO) at the group level. Ionut Georgescu is an executive with over 21 years of experience in the IT and information security industry.
"Following the investments made throughout 2022 in international expansion in the United Kingdom, the United States, and the United Arab Emirates, Safetech Innovations has significant growth potential. Ionut Georgescu has extensive experience and solid expertise in cybersecurity, which represents an important asset for our company, considering that the cybersecurity sector is in continuous progress. We are convinced that together we will develop the company globally and transform Safetech Innovations into a top player in providing cybersecurity services and solutions at the highest quality standards. In a context where cyber threats are rapidly evolving, our ongoing investments in people and technology will allow us to be at the forefront of the cybersecurity sector and ensure that all our clients are prepared and protected against them. We welcome Ionut back to our team and look forward to working together to achieve our growth objectives," stated Victor Gansac, Chairman of the Board and CEO of Safetech Innovations.
Before joining the Safetech Innovations team, Ionut Georgescu was Senior Manager, Advanced Security Analysis at Dell Secureworks, where he coordinated multiple multinational teams delivering security services for top international companies. Also, between 2015-2017, he worked at Safetech Innovations, during which time he contributed to the development of STI-CERT from the position of Technical Security Manager. STI-CERT is a specialized cybersecurity incident response center (CSIRT) through which public and private sector companies benefit from specialized services regarding cybersecurity threat monitoring and intervention in the event of security incidents on a 24/7 or 8/5 basis.
As COO of the company, Ionut Georgescu will play an essential role in Safetech Innovations' global strategy. His main objective will be to position the company as a top provider of cybersecurity services and solutions in Romania, the United Kingdom, the United States, and the United Arab Emirates, countries where Safetech Innovations has subsidiaries. In the medium and long term, Safetech Innovations aims to create sales and pre-sales technical teams in each location where these subsidiaries are established.
For 2023, the main objectives of Safetech Innovations focus on consolidating the company's business in Romania by increasing the number of new clients and the number of recurring contracts, as well as developing subsidiaries, especially those in the United Kingdom and the United States. Regarding the United States, the company has recently officially established a local entity, and in the coming period, its activity will focus on operational aspects, such as hiring two people, a sales expert and another in pre-sales, and partnerships with local vendors.
In this context, in 2023, Safetech Innovations targets consolidated revenues of 58.1 million lei and a net profit of 13.9 million lei. The company also plans to introduce new services and solutions, such as advanced cybersecurity testing. In addition, besides continuing the development of its products, iSAM, ToR-SIM, and SafePic, Safetech Innovations is considering creating a new product from its resources, through which clients will be supported in recovering data lost after a cyber-attack.
Safetech Innovations is listed on the Main Market of the Bucharest Stock Exchange as of February 6, 2023, and is traded under the symbol SAFE.