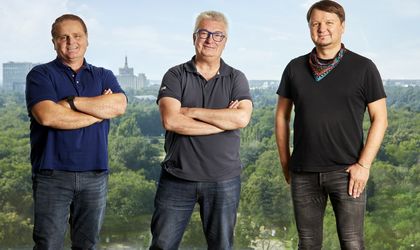 Full-service Romanian games development agency Amber announced today that Jaime Gine will join the company as CEO, overseeing the company's operations across all functional areas. Mihai Pohontu, the former CEO, will take on the role of Executive Chairman, leading the Board of Directors and strategic initiatives in the areas of innovation, community and growth.
By Romanita Oprea
Prior to joining Amber, Jaime Gine was the former Chief Customer Officer at Keywords Studios and a 15-year veteran of Electronic Arts where he served as VP of International Development Services. Gine also served as the General Manager of intelligent language and content company SDL. During his five years as CCO with Keywords, the company's market capitalization increased from around USD 100 million to over USD 2.5 billion.
Amber is also welcoming a new Head of Business Development with Brian Waddle. Waddle has been a senior global sales & marketing executive in the games industry for 16 years, having successfully led these functional roles at companies such as Virtuos and Havok. He is also a Board member at Telltale Games, with a strong background in mergers and acquisitions.
"We are entering a new chapter in Amber's evolving story, as we proceed to expand our international network of studios to cover all platforms and game genres. Jaime and Brian's joining our leadership team is a great accelerator to our strategy and I'm excited to welcome them to our group," said Mihai Pohontu.
"Amber is pure excitement, and has been delivering phenomenal organic growth, but we believe we ca do more, go faster, dream bigger." said Jaime Gine. "With great talent in Bucharest, Guadalajara, San Francisco, Los Angeles, and Montreal, we have a solid foundation to take the company to the next level. I'm thrilled to join my friends at Amber at this exciting point in their history and look forward to helping our company in its growth path."
"I'm happy to join Amber, a great company with a promising future and ambitious vision." said Brian Waddle. "As Head of Biz Dev, I'll ensure that Amber establishes new partnerships to reach our business objectives. Each studio and department at Amber are supported by talented people, I am looking forward to helping our customers and the Amber team deliver great results, services and games around the world."
Amber partners with brands including Disney, NBC Universal, Paradox Interactive, Rovio, That Game Company, and Raw Fury among others.