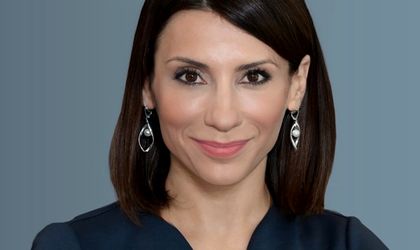 CBRE, the global leader of real estate consultancy market, continues to strengthen its operations in all ten countries of the CEE region and appoints Carmen Ravon, one of the most appreciated Romanian experts in retail, currently leading the CBRE Romania's Retail team, to coordinate the retailer's expansion in the entire CEE region as Head of Retail Occupiers.
With more than 15 years of experience in retail real estate, Carmen has successfully and repeatedly signed lease contracts with international top occupiers such as: Peek & Cloppenburg, Inditex Group, Decathlon, H&M, C&A, Hervis, LC Waikiki, DM, Lidl, Sephora, Adidas, Mango, Jysk, KFC, McDonalds, Starbucks, Office Shoes, and many more. Carmen and her team advised important retailers such as Victoria's Secret, Burger King, Nespresso, Michael Kors, Lagardere and Philip Morris, in running portfolio optimizations and also coordinated the leasing processes for new shopping centers and retail parks, refurbishment, and re-tenanting of existing shopping centers in all major cities from Romania.
"The recent disruptions from the retail sector with focus on ecommerce have led to an extra advisory need of companies, that requires not only in-depth expertise but also creativity and leadership. Carmen has an outstanding know-how and ability to foresee market trends and she will be focus on creating and strengthening of our business relationships with Retail Occupiers that need to extend their footprint on all retail formats in 10 countries across Central and Eastern Europe, and in cooperating strongly with our Industrial & Logistics structure." commented Andreas Ridder, Managing Director of CBRE in the CEE Region.
Carmen Ravon is also the artisan of the new Omnichannel business line, CBRE Romania being the first real estate company that launched Omnichannel services to assist retailers on their expansion on the logistics sector. In her new CEE role, Carmen will also work closely with the Industrial & Logistics teams, as ecommerce development involves supply chain and logistics investments in all CEE markets.
"Our Romanian team have been exporting leadership in CEE for many years, in different real estate sectors, proving repeatedly that Romania is a true talent pool. Having once again a team member promoted in CEE role makes me proud that CBRE Romania has beautiful minds, great knowledge and very appreciated leadership models Carmen skills, creativity and expertise in Retail and Omnichannel services will serve in a moment when the lines between retail, industrial and logistics blur and a new approach is a must have", stated Răzvan Iorgu, Managing Director of CBRE Romania
Carmen have graduated the Academy of Economic Studies in Bucharest, specializing in Finance& Banking and holds a Management Diploma by The Open University Business School of London. She is fluent in Romanian, English, and French, being involved in multiple business associations and commerce chambers, while being one of the most desired speakers for real estate major events.
"We are witnessing some challenging times and retail is changing faster than ever, from shopping center experiences to ecommerce expansion. Just to have a global perspective: the ecommerce penetration will push online sales to $3.9 trillion by 2025, meaning 4 times larger than in 2015.  With the knowledge of CEE Retail teams, we will support retail occupiers in taking profitable decisions for their business, by expanding in CEE regions that benefits from a stable economic climate, advantageous fiscal conditions, educated workforce and, most importantly, increasing spending power. I saw how all the Retail Occupiers that entered in CEE countries based on strategic expansion plans had been very successful and now, given the supply chain disruptions, retailers are exploring to open logistic facilities in CEE region, to support offline and online sales", explained Carmen Ravon, Head of Retail Occupiers CEE.
After weaker results of retail spending in 2020, Oxford Economics forecast an annual growth for all CEE countries in 2021 and 2022. The average retail spending growth for CEE region is forecast to 5% YonY in 2021 and 3% YonY in 2022. Among countries with the highest increase in 2021 (above 8% YonY) are Bulgaria, Croatia, Romania and Slovenia. In 2022, it is the Czech Republic, Estonia and Slovakia (more than 6% YonY).
While the prime rent was notably reviewed in the most of CEE countries during 2020, for both high street and shopping centres, they remained relatively stable during 2021 when we recorded ongoing pressure mainly on high street location. In Q3 2021, the Czech Republic was dominating the CEE retail market with the highest prime rents, followed by Hungary and Poland. On the contrary, the lowest level was in Baltics and Bulgaria.
We continue to expect significant pressure on rents, higher discounts and contributions, and flexibility in the length of leasing until the pandemic subsides sufficiently and the market recovers.
In Romania, the retail modern stock is forecasted to cross the 4.00 mln. sq m barrier, reaching 4.10 mln. sq m by the end of 2021. Considering the under–construction and planned projects, by the end of 2022, the total amount is expected to rise at 4.30 mln. sq m, anticipated volume that restores investors and developers' confidence in traditional retail
Romania's modern retail stock reached 3.98 mln. sq m at the end of the third quarter of 2021, gathering as retail formats both shopping centres and retail parks. Considering the new supply and the future new supply can be observed, developers' proneness towards specialized retail format, a trend started in 2020 and shaped by the regulations imposed by the pandemic.
Nonetheless, e-commerce positioned itself in retailers' business and customers' preferences and is expected to intertwine with the traditional way of buying things, and it's only up to retailers to choose the way it will integrate the omnichannel approach in their selling strategies.