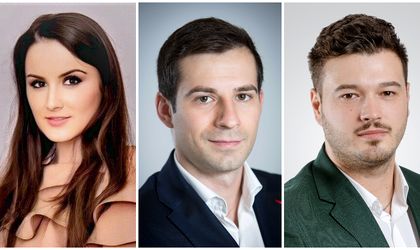 Rödl & Partner Romania announces the appointments of Dragoş Cristian Bădescu as VAT Manager, and George Vlad Amariei as Transfer Pricing Manager, to enhance its tax offering. Both Dragoş and Vlad will bring relevant experience to their new roles and will work under the close supervision of Andreea Stănică, Associate Partner and Head of Tax & Transfer Pricing.
Andreea Stănică commented: "Tax and Transfer Pricing are an important part of Rödl & Partner Romania expertise' promise and an area in which we continue to excel, with the whole business on an exciting trajectory. The quality of our people, harnessed in an amiable and service-oriented culture, is the foundation stone of that. These two appointments highlight our continued road for success and ambition".
Dragoş Cristian Bădescu has more than 5 years of extensive experience mainly in Big4, providing VAT consultancy for clients operating in the automotive, manufacturing, IT&C and retail industry. His expertise relates in particular to VAT advisory, VAT reporting and compliance, tax review, income tax and international transactions.
"It gives me great pleasure to join the team of professionals at Rödl & Partner Romania, taking over the role of VAT Manager within the firm. The experience gained during my professional career and the people who trained me in the last years of working in a Big4 company have contributed to this positive evolution.
I look forward to new challenges and I am grateful that I can share them with the extraordinary people I have met here. I am confident that together with Andreea, we will further develop the VAT practices within the firm, as well as the other tax assistance services and support our clients with the most practical and professional solutions," mentioned Dragoş Bădescu.
Also, George Vlad Amariei joins Rödl & Partner Romania after 5 years of working in a Big4 company. During this period, he has been involved in multiple projects and gained expertise in providing complex economic analyses for clients activating on the retail, real estate and Oil&Gas sectors. He advises international clients on a wide range of business matters and has significant experience in transfer pricing policies, benchmarking and related reporting for tax authorities.
George Vlad Amariei: "I started my professional experience in Big4 at the age of 21. It was a period of extensive growth, where I had the opportunity to gain extensive knowledge from top tax specialists. From this experience I learnt that an important factor in the development of a young professional is the ability of his employer to give him wings in his career path.
Thus, after almost 5 years spent in one of the most important consulting firms in Romania, I feel this is the best moment of my career to accept a new challenge and join the tax team of Rödl & Partner Romania, as coordinator of the transfer pricing department. I fully resonate with my new colleagues, we share the same values, and I believe that together we can achieve impressive results. In this regard, I will use all my experience and skills to provide our clients unrivalled services,  effective case management and fulfillment of transfer pricing obligations."