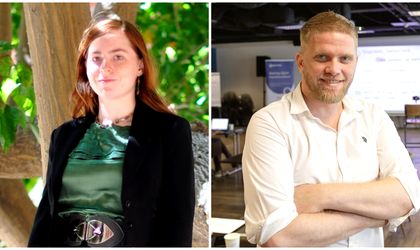 ROCA X, an initiative supporting disruptive early-stage startups and part of the Impetum Group, announces the expansion of the management team. Jennifer Austin and Matei Dumitrescu, two important industry figures, have joined the ROCA X team as Senior Investment Partners.
Jennifer Austin, originally from the USA, has spent the past 7 years actively contributing to the development of the startup ecosystem in Romania, through investing, accelerating startups, supporting investors, designing corporate innovation and startup programs, and other activities. In her new role of Investment Partner of ROCA X, Jennifer will leverage her strong industry experience, including the creation of the first equity-based accelerator, creation of the first private micro VC based on a co-investment strategy aimed to develop both the startup community and the investor community, and co-founding  Startup Avalanche, one of the most important European competitions for startups, organized within Techsylvania. All her projects have contributed to increasing the visibility and attractiveness of investments in technologies from early stages of development, helping to grow Romania as an attractive environment for local and international startup founders and investors.
The common vision and approach to investing in technology – mixing capital and active operational support for startups – brought Jennifer closer to the ROCA X team and led her to join the mission of supporting technology startups founders and assist them to develop accelerated growth strategies for their businesses. As a part of the team, Jennifer will support the establishment of a permanent presence of ROCA X in Cluj-Napoca, the second largest IT hub in Romania. Consequently, ROCA X will expand and materialize its presence in the Transylvania region, a dynamic and increasingly important region for technology investment.
Matei Dumitrescu is a business angel with 20 years of entrepreneurial experience. He is also Vice President of Tech Angels and founder of the micro VC Smart Impact Capital. His investment expertise is international and in 2018 he was selected as Investor of the Year at Central European Startup Awards. As an expert in business acceleration and startup mentoring, Matei has been supporting hundreds of entrepreneurs around the world since 2014, together with the Investment Ready Program team in Vienna, as co-director of the Founder Institute, and as manager of Commons Accel.
His experience in successful European and global projects will contribute greatly to his role as a Senior Investment Partner of ROCA X. Utilizing his multidisciplinary experience, together with the ROCA X team, Matei will continue to identify attractive, high potential investment opportunities in innovative companies. He will also support the development of meaningful partnerships in the local and international startup ecosystem.
"The main focus, for both Jennifer and Matei, will be to identify emerging business areas and models with disruptive potential in the economy. With the two Senior Investment Partners, ROCA X significantly expands both the area of contacts and collaborations, and the capacity for selecting pipelines, mentoring and acceleration, so that we can get involved even further and partner with more founders whose projects and dreams are so large that they need us. In this way, we will be able to more quickly meet the goal of increasing the size of the available capital up to €15M, and our ability to manage this capital as efficiently as possible", declared Alexandru Bogdan, CEO ROCA X.
Currently, under the motto "For Dreams too big to be built alone", through a unique approach – side by side with both startup founders and investors – ROCA X manages 16 investments and currently has a pipeline of over 100 local and international startups in multiple fields being evaluated for partnership. By bringing two experienced Senior Investment Partners to the team and further supported by synergies within the Impetum Group, ROCA X is on the right track to achieve this year's goals: increasing the number of companies supported to 25 partnerships, growing capital commitments to €15 million, and expanding investment reach throughout Europe.