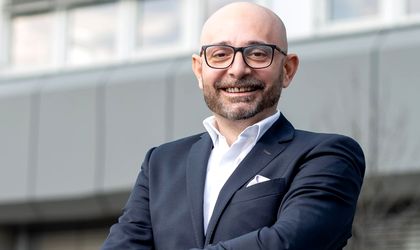 REHAU, German provider of solutions for windows, building and furniture, has from the beginning of this year a new Country Manager in Romania, Alexandru Oprea, with 17 years of experience within the company.
Alexandru Oprea takes over the role of Country Manager from Alessandro Hillebrand, under whose management, REHAU Romania registered notable results for all divisions. Alessandro Hillebrand will be in charge with new projects in Southern Europe, in addition to his tasks as Country Manager Italy.
Alexandru Oprea started his career at REHAU Romania in 2004, immediately after graduating from the Technical University of Constructions in Bucharest. In 2010 he was appointed Sales Manager for Bucharest and Bacau within the Building Solutions division, he quickly advanced to the position of Head of Sales of the entire Building Solutions division in Romania in 2011, and then in 2015 he took over the responsibility of the division also for REHAU Bulgaria. Starting 2018, he is member of the Administrative Board of REHAU Romania. During the last year, Alexandru Oprea has been Deputy Country Manager.
"The evolution of REHAU in Romania during the almost 26 years of existence on the domestic market is a proof of the constant dedication shown by the REHAU team and I am glad that I had the chance to join this family and stay with it. REHAU Romania is preparing new projects and aiming to expand the business locally and regionally", said Alexandru Oprea, Country Manager REHAU Romania.
In addition to his expertise in the sales, management and administrative areas, Alexandru Oprea also stood out for his openness to digital projects. In 2016, he launched a B2B loyalty platform within the Building Solutions division, which soon became a complete B2B services platform in Romania and in other countries where REHAU is present.
In parallel, Alexandru Oprea, from March 1st, 2021, took over the position of Head of Sales and Marketing in South Eastern Europe (SEE) for Building Solutions Division. Thus, besides Romania and Bulgaria, he coordinates the following markets within the division: Croatia, Serbia, Montenegro, Bosnia and Herzegovina, Macedonia, Albania, Kosovo, Moldova, Greece, Turkey and the Middle East.
With a history of 25 years on the local market, REHAU Romania had a turnover of EUR 44 million in 2019 and has at this moment 86 employees nationally.