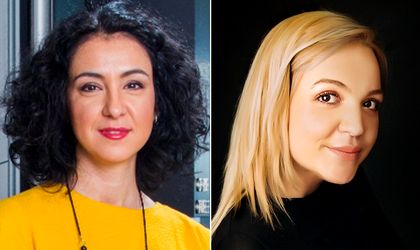 PwC Romania has announced that starting July 1, Ana-Maria Butucaru and Ruxandra Tarlescu have become partners in the Assurance and Tax and Legal Services departments.
Ana-Maria Butucaru has 15 years of experience in PwC Romania. From July 1, she has become the Financial Services Assurance Leader in Romania representing PwC in front of banking, insurance and capital markets clients and their regulators. She holds a Bachelor's Degree in Banking and Stock Exchanges from the Academy of Economic Studies and an Executive MBA from the Vienna University of Economics and Business.
"I am honored to join the partner team of PwC Romania, a company that formed me professionally and where I had the chance to build up a top career in professional services. In the future, one of my main goals is to develop, together with the valuable team I lead, innovative products and services in a very competitive business environment," said Ana-Maria Butucaru.
Ruxandra Tarlescu has become a TLS Partner and will continue to lead the Pharmaceutical & Healthcare Industry. She will also act as a Corporate Tax Partner for various clients in other industries and will have a key role for further developing of customer and service portfolios. She joined PwC Romania 12 years ago and holds Bachelor's and Master's degrees from the Academy of Economic Studies. She has an active membership role in the Healthcare Committees of the American Chamber of Commerce and the Foreign Investors Council.
"I am very proud to become a partner of PwC Romania, a very important professional achievement for me. In the next period, I will continue to develop our expertise in the Pharma sector, working closely with both industry and regulators and authorities," said Ruxandra Tarlescu.
"I congratulate Ana-Maria and Ruxandra for this well-earned success and I am confident that their demonstrated exceptional professional and leadership skills will bring many valuable benefits to our clients and firm. Promoting them in these new roles is also a full recognition of their results so far and reconfirms management's commitment to the professional development of our colleagues. Both of them have begun their career with PwC Romania, having had an exceptional career path due to the passion for the profession and the constant contribution in our practice development," said Ionut Simion, Country Managing Partner of PwC Romania.