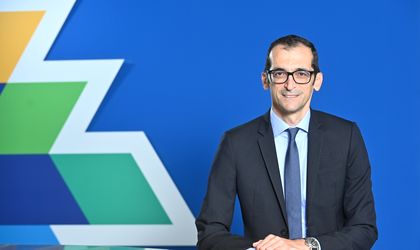 Burak Yildiran will be the new General Manager (CEO) of Patria Bank and will lead bank's development strategy in supporting local entrepreneurship and private clients, as well as in improving the customer experience and developing digital processes.
Burak Yildiran has nearly 25 years experience in finance – banking and technology, of which almost 20 years spent within the Garanti BBVA group. Throughout his tenure he has been responsible for business development, change management, customer experience, Agile projects, digitization, transformation, strategic leadership and talent management. Burak was for six years Deputy General Manager and Operations Manager at Garanti BBVA Romania.
Prior to his appointment to Patria Bank, for the past 2 years, he held the position of Chief Operations Officer in TotalSoft, leading the reorganization of the company and its growth after the takeover by LOGO Group. Burak holds an MBA from WU Executive Academy – University of Vienna and a BA in Business Administration from Hacettepe University.
"I am glad to be joining Patria Bank and together with its team reach a new phase in its development on the local market with the aim of creating value for the entire ecosystem of stakeholders – customers, employees, shareholders and the society. I want to contribute to a new stage in the evolution of the bank and its customers and as a bank to offer the most suitable banking solutions, helping customers achieve their needs and aspirations, while taking better decisions about their finances that positively impact their future." said Burak Yildiran, the new CEO Patria Bank (under NBR authorisation).
—
"Patria Bank's management team will become stronger with Burak Yildiran joining the team. Its rich, local and international expertise in the area of digitalisation, organisational transformation, customer experience improvement and strategic leadership will add value to the team and, indirectly, to Patria Bank customers. Burak is a good team-mate and together we want to build a new important stage in the development of the bank: digitalisation and optimizing the customer experience. Daniela Iliescu will hand over the bank's management and will continue to be an active promoter of the Patria business, while in her mandate has had a major contribution to ensuring financial stability and strengthening the bank's capital base in order to build a solid platform for future plans & growth " said Horia Manda, Chairman of the Board of Directors of Patria Bank.
Daniela Iliescu will continue her mandate as CEO until Burak Yildiran is authorised by National Bank of Romania and after that will later take over the position of Deputy Director General of Financial and Risk Areas.The executive committee of the bank also includes Codruț Nicolau, Deputy General Manager Business and Valentin Vancea, Deputy General Manager Operations and IT.