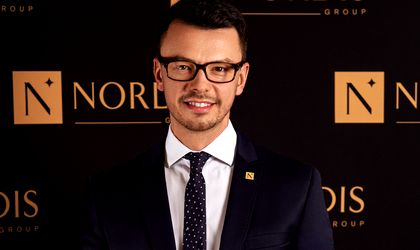 Nordis Group, a real estate developer specialized in the development of luxury hotels and residential complexes, plans to consolidate its position on the local market and announces the appointment of Razvan Botezatu as Operations Manager. He will be involved in all the activities of the group for the creation and delivery of real estate products and services and will contribute to the business expansion.
As Operations Manager, Razvan will be involved in all Nordis Group activities and will directly contribute to the creation of medium and long term operational strategy, planning, control, improvement of management systems and processes and implementation of "best practices" in the field. Moreover, it will also consider the increase in the performance and efficiency of the various activities and units within the Nordis Group and will contribute to maintaining a compliant operation mode.
"I am happy to join the Nordis Group team for the courageous vision and ambitious projects the company embodies every day. I want to be part of this business and contribute to its development and, equally, to put Romania on the map of 5-star tourist and residential destinations in Europe. I will use my leadership experience gained in various fields of activity to bring some elements from the "corporate world", which will help accelerate the expansion of Nordis Group. Within the Nordis team I found a lot of energy, ambition and courage and I join them with a strategic thinking and process orientation, consistency, discipline and sustainability. Of course, I will use my skills to help increase the sales, marketing and leadership capacities within Nordis," said Razvan Botezatu, Nordis Group Operations Manager.
He has previously held the position of Enterprise Commercial Lead at Microsoft Romania, Head of Commercial Excellence at Coca-Cola Hellenic Romania and Manager, Services and Strategic Accounts Operations at Xerox Central Europe, Israel and Turkey, having excellent results.
As Operations Manager within Nordis Group he will mentor junior managers and collaborate with other group managers, Nordis partners and customers, in all functional areas of the organization, which have an impact on the company's operations.
Razvan Botezatu aims to bring within Nordis Group, a company with Romanian entrepreneurship, his over 10 years top management experience acquired in the multinational companies where he performed.