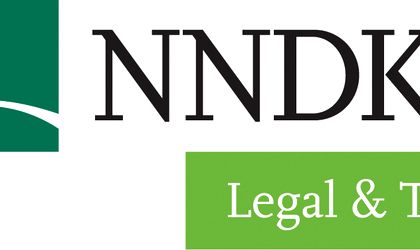 Nestor Nestor Diculescu Kingston Petersen (NNDKP) announced the 2020 class of promotions, with 1 lawyer and 1 tax consultant entering the NNDKP Partnership, 5 lawyers promoted to the Managing Associates position and 3 fiscal consultants to that of Director and 10 lawyers named as Senior Associates. In total, promotions were made in 10 practice areas of NNDKP (consultancy, litigation and tax).
Eva Forika (NNDKP Timisoara) and Alexandru Aparaschivei (NNDKP Tax Advisory Services) were promoted to Partner position.
Alexandru Aman (Corporate/M&A), Cristian Dranca (Public Procurement and PPP), Monia Hantig (Banking and Finance), Corina Iablonschi (Dispute Resolution) and Daniela Savin (Ghervas) (Dispute Resolution) were promoted to Managing Associate position.
Vadim Apostol-Lulay (Dispute Resolution), Cristiana Chelu-Prodescu (Dispute Resolution), Ioana Cioclei (Dispute Resolution), Anca Diaconu (Competition), Luciana Dutu (Dispute Resolution), Alexandru Lacureanu (Dispute Resolution), Alexandra Marutoiu (Dispute Resolution), Razvan Savin (Dispute Resolution), Miruna Vlad (Data Protection) and Raul Zachia (Data Protection) were promoted to Senior Associate position.
Additionally, Laura Avram, Mihaela Ioja and Daniela Pepa from NNDKP Tax Advisory Services were promoted to Tax Director position.
In 2020, the firm celebrates 30 years since it set off on the journey to provide professional business law services in Romania. Today, NNDKP represents an integrated legal & tax team comprised of 30 partners, over 120 lawyers and tax consultants and 80 employees in the supporting departments, working out of the firm's offices located in Bucharest, Timisoara, Cluj-Napoca and Brasov.
The promoted NNDKP Partners:
Eva Forika, Partner
Eva is a highly seasoned Romanian law qualified lawyer with over 20years of professional experience in the legal field. She is reputed for her exceptional capacity of identifying practical solutions for the complex issues revealed by the commercial practice.
She ensures in-depth coverage of fundamental business-related areas of corporate and commercial law, real estate law, labor law and tax matters; her practice also includes dispute resolution, with particular focus on contracts, regulatory, property and labor matters.
She assists domestic and international clients from a wide range of industries, such as automotive, agribusiness, industrial and manufacturing sectors, on complex contractual projects, by structuring, drafting and negotiating various contractual arrangements, as well as on day-to-day matters specific to their activity on the Romanian market.
Eva also, has managerial responsibilities, as head of NNDKP Timisoara office that has recently celebrated its 15th anniversary.
More details about Eva here.
Alexandru Aparaschivei, Tax Partner
Alexandru has over 12 years of experience in the field of tax consultancy with focus on all VAT related matters.
Alexandru provides tax assistance in a wide range of projects to companies that are active in the energy and natural resources sector, financial services, industrial and manufacturing or real estate. He is a Certified Tax Advisor.
More details about Alexandru here.
Read more about the entire 2020 class of promotions at NNDKP here.