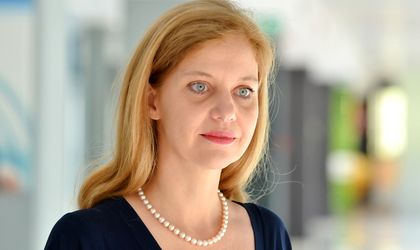 Oana Petrescu is the new General Manager of air carrier Blue Air, according to a company press release. Petrescu is replacing Marius Puiu, who had been the interim GM for the company since September last year.
"Marius will still be with Blue Air and will go back to his greatest passion: being in the cockpit, as close as possible to the company's passengers. He is confident in the future of the company and in the ability of the new team to mantain sustainable growth," according to Blue Air officials.
Oana Petrescu joined the Blue Air team ]n January 2018 as interim Chief Financial Officer and turnaround manager. Previously, Petrescu was an audit partner, risk advisor and consultant for Arthur Andersen, Ernst&Young, and Deloitte. She was also the Executive VP for the Romanian Commercial Bank.
"Blue Air is full of opportunities, and in order to increase our business and operational performance, we will adopt a business model that is adapted to the current market, namely Low Cost – Low Complexity. I trust the Blue Air team of professionals and I am confident that together we will significantly improve both communication with our passengers and their experience at the airport and during flights," said Oana Petrescu.
Following the re-organization of Blue Air's leadership team, it currently includes:
Carsten Schaeffer (Chief Commercial Officer)
Dana Popescu (Chief Financial Officer)
Cristian Buciu (Chief Operations Officer)
Aurelian Bobei (Chief Technical Officer)
Blue Air estimated its 2018 turnover at EUR 460 million, a growth of about 10 percent compared to the previous year, according to its latest press release. Celebrating its 14th anniversary, the company said it has transported over 26 million passengers since it became operational, making it the largest Romanian airline by the number of passengers transported.