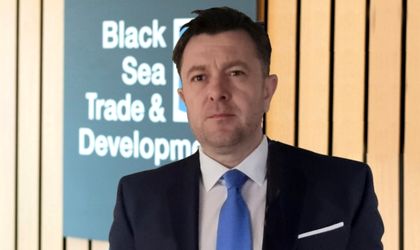 Following a proposal of the Government of Romania, the BSTDB Board of Directors appointed Mr. Dragoş Paul Ungureanu as the Bank's Vice President Risk for a four-year term starting today, 16th of December 2022. Mr. Ungureanu took up his position today replacing Ivaylo Moskovski who concluded his term.
A national of Romania, Mr.  Ungureanu joins BSTDB with extensive experience in the financial and banking sector. His most recent position was Head of Commercial SME and Microbusiness at Banca Transilvania, where he was in charge of the Bank's loan policy and responsible for the implementation and successful delivery of government programmes.  In a career spanning 20 years with Banca Transilvania, Mr. Ungureanu has a successful track record in portfolio acquisitions and migration processes, as well as promoting employee engagement and developing effective sales and product launch campaigns.
As the Vice President Risk, Mr. Ungureanu will be in charge of the Bank's risk policy, project implementation and monitoring, environmental and social sustainability issues, as well a financial analysis.
Mr.  Ungureanu holds a Master's in Public Sector Management from the National School of Political and Administrative Studies of Bucharest and a bachelor's degree in Finance, Accounting and Informatics from the Oil and Gas University of Romania.