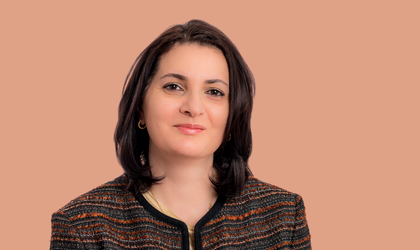 Mihaela Antonescu, currently Chief Operating Officer at Wavemaker, is preparing to take over the role of CEO of the agency, starting April 2022. The position was covered, during the past 8 years, by Oana Pădure.
By Romanita Oprea
Mihaela Antonescu is one of the most experienced and well-trained people in Wavemaker, she has been a part of the team since 2008 and has been working in the media industry for more than 26 years.
As a COO, Mihaela obtained significant results and gained solid experience in managing complex teams and projects as well as in building and maintaining relationships with the agency's clients. Today, Mihaela is a complex professional, obviously able to perfect Wavemaker`s services and products and to develop new client portfolio.
"Not only a media expert, recognized as such in the industry, Mihaela is a person of value, who inspires confidence and courage. She took over the role of COO amid the pandemic and we managed together, in a most difficult time, to continue to ensure the growth of clients and agency, to create and develop teams and new ways of working, while following the Wavemaker culture.
For me it has been an honor to work with her and I am convinced that Wavemaker will continue its rise and development while having Mihaela as CEO." – Oana Pădure
"At Wavemaker we have a courageous and provocative attitude. We do things differently and get out of the comfort area, to come up with creative solutions that generate growth for all directions: for our customers` goals, for our people`s development, for the frequency of beautiful experiences. I will continue to strengthen everything I have built together with Oana and the Wavemaker team and I will keep promoting the concept we follow – Positive Provocation – in everything we offer as services, products, and projects to our partners. Certainly, I will focus primarily on the agency's clients and on the growth of their business, as their success also translates into our success as a partner agency." – Mihaela Antonescu
Wavemaker is one of the GroupM companies that have enjoyed a most spectacular rise in the past years. Its avant-garde positioning around the "Positive Provocation" concept has led to the addition of new brands and business partners to its portfolio, which currently places the agency in a top position on the Romanian market.
None of these would have been possible without the contribution of Oana Pădure, during the eight years she`s been leading the agency.
Currently, Oana has decided that it`s time for a new chapter in her career, so starting April 2022 she is going to dedicate herself to a new challenge: leadership and team coaching.
"I want to thank Oana for the leadership and contribution she's made not only to Wavemaker in Romania but also across our EMEA network. So while we will miss her we wish her all the best as she pursues her passion.
Oana's belief and ability to build strong teams means she leaves Wavemaker in very good hands as we welcome Mihaela into the CEO role. The experience and solid track record Mihaela brings to the role will continue to positively provoke growth for our clients and people. Mihaela already has an outstanding reputation and takes the helm of an amazingly ambitious, healthy business. I look forward to personally working alongside her." – Ruth Stubbs, EMEA CEO at Wavemaker