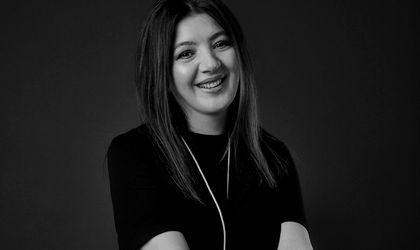 With over 18 years of experience in digital advertising industry, from which half as member of the MRM Romania team, Ionela Buta is promoted Chief Operations Officer McCann Worldgroup Romania. Moreover, she will continue to supervise the business operations of MRM Romania as CEO.
By Romanita Oprea
A graduate of the Polytechnic University in Bucharest, Ionela entered the world of digital advertising in 2003, right at the beginning.
She was part of the management in Kinecto, the first declared digital agency in Romania, contributing to its development for 8 years. In 2012, she joined MRM Romania, first as Client Service Director, became Deputy CEO three years later and took over as CEO in 2016.
At MRM Romania, Ionela had an active role in reorganizing and expanding the agency, created new capabilities and expanded the business in the B2B segment, developed a content department, created a tech center in Bucharest, with MRM Romania being one of the 5 global offices of McCann Worldgroup in the voice excellence area.
When it came of business, MRM Romania registered, in 2019, a raise of 80% of its business compared to the previous year.
The management team of McCann Worldgroup is leaded by Sagit Tzur-Lahav, Chief Executive Officer, together with Beatrice Iftimi – Head of Business & Chief Growth Officer, Ruxandra Moscu – Chief Financial Officer, Catalin Dobre – Chief Creative Officer and Mihai Trandafir – Managing Director, UM Romania.
"The extraordinary combination of entrepreneurial spirit and talent represents us as a company. The transformations are part of our DNA, we are open towards new things and we know how to react fast. We tested those qualities in 2020 and we continue to test them in 2021. We are proud of the achievements we had until now and we are conscient that we are here due to the talented people we have close and Ionela Buta is a good example to illustrate that. A natural entrepreneur, Ionela is responsible for the digital innovation we went by at group's level and was a key member in the most successful business decisions made taken during the last few years," said Sagit Tzur Lahav, CEO McCann Worldgroup Romania.
"Almost my entire career was in advertising, in digital, so one can say that I "grew" in this context and I believe that helped me a lot. The way of conducting in this difficult environment me and helped me also in business. The digital environment is in continuous change, with tech having the most accelerated growth in the history of the humanity and we had to continuously adapt, to search what is new, to apply and to prepare for what is next As COO at McCann Worldgroup Romania, I come prepared with all I have learnt until now, but we are talking now about a bigger scale, which for me is a welcomed challenge.
I will be involved in group's operation, which will have as result an efficiency, consistency in all we make and excellency in the initiatives and objectives from agencies part of the group. I believe a lot in people and in identifying their superpowers and that is what I want to do: use those superpowers at group's level to come with a new offering, anchored in today's challenges, and an agile process. I aim to innovate processes, to discover new ways to work and to continue to surpass ourselves with each campaign we will launch," declared Ionela Buta, Chief Operations Officer McCann Worldgroup Romania and Chief Executive Officer MRM Romania.
"We are a group with a very strong creative culture. This culture was raised, in time, by people who believe in values, who keep pushing their limits, who find the most innovative business and communication solutions. Ionela is one of the people that put their fingerprint decisively over this culture, a person I admire enormously for her ambition and vision. With Ionela in her new role, we will manage to explore the new territories and to push ambitions even further," also added Catalin Dobre, Chief Creative Officer McCann Worldgroup Romania & Regional Creative Director McCann CEE.
McCann Worldgroup Romania has long term partnerships with companies like Coca-Cola, Vodafone, KFC, Nestle, L'Oréal, MasterCard Europe, Mega Image, Heineken Romania, Unilever. McCann WorldGroup Romania includes the following agencies McCann Bucharest, Momentum, UM, McCann PR and MRM Romania. At international level, it is part of McCann WorldGroup , with offices in 205 cities in 132 countries.