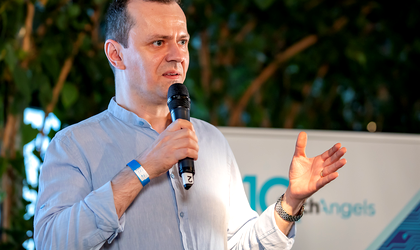 Marius Istrate is the new president of the TechAngels group, Romania's first and largest angel investor network, which elected a new leadership team for the next two years. The tenure of the President elect and Managing Board will focus on increasing quality in three dimensions concerning startups submitting pitches; supporting startups to reach higher growth phases; and the status of angel investors.
Marius Istrate has more than 18 years of experience in the IT industry, where he has led and grown teams, with a focus on talent acquisition, internationalization and leadership team development. In that position, he has familiarized himself with the startup environments in Romania, France, Germany and the United Kingdom. In the period from 2017-2020, he was Chief People Officer with UiPath, where he helped expanding the team from 100 to 3,000 people globally. For three years, he has assumed an angel investor's role and his portfolio includes startups such as Flowx.ai, SmartDreamers, BunnyShell, YouniChoice, OxidOS, Parol, CarsUp, which he advises. His personal investment portfolio also includes syndicated investments and investment fund interests.
"The plan I have submitted to my TechAngels colleagues is aimed at enhancing our profile as an association, so that we remain the first choice for support when startups seek funding. This seems natural to me, considering the highly diverse membership of TechAngels and our numerous competences. I also submitted a plan to increase the percentage of startups in our joint portfolio that reach A-rounds, as a measure of TechAngels' capability to support startup advancement. The third dimension of my term concerns outlining policies to encourage angel investments, which requires stepping up our dialogue with the authorities and with our ecosystem partners," Marius Istrate explains the foundation for the group's next strategic steps.
The members of the new Managing Board of the angel investor group will be Malin Stefanescu, Mihai Guran, Matei Dumitrescu, Cosmin Curticapean (all four with a renewed term at the head of the group), as well as Anca Petcu, Sebastian Cochinescu, Sabin Gilceavă, Ciprian Harabagiu, Dimitris Matsakis and Stefan Morcov, who are newly appointed members.