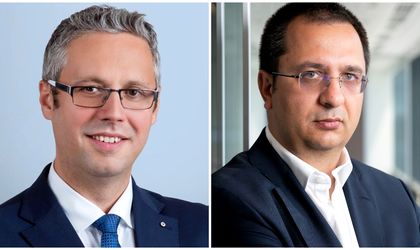 Marian Bălan, former General Manager of the local branch of Turkish group ETI, is the new Head of Strategic Business Planning of financial consulting company Concilium Consulting, where he will manage the development of strategic plans for clients from the pharmaceutical and consumer-product industries.
Erratum: In the original article, Marian Bălan's role at ETI was given as CEO, when in fact he was the General Manager of the Romanian branch. The CEO of ETI International is Mr. Stephane Batoux (since April 2017). We apologize for the mistake and the confusion it might have created.
"We will focus on two important business directions, oriented towards international manufacturers that are ready to enter the market of Romania or Central Europe, and manufacturers from our country that wish to structure their portfolio and business model, so that they can efficiently cooperate with international chains from the channel, which comprises major retail players", Marian Bălan, Head of Strategic Business Planning at Concilium, said.
Marian Bălan will also coordinate the implementation processes of Go to Market projects, which will help Romanian manufacturers increase their numerical distribution in the "traditional trade" channel, in a sustainable and profitable manner, and also optimize their product portfolio and define a strategic plan for regional, European or global expansion.
"We greatly trust Marian's expertise, and we are confident that together we will manage to provide genuine growth opportunities for FMCG and Pharma businesses. We are also colleagues in the Turnaround Management Association, which represents professionals from the company restructuring industry, where our collaboration was practically consolidated in providing efficient reorganization and sustainable growth solutions for businesses that operate in Romania", Vlad Năstase, CEO Concilium Consulting, added.
Marian Bălan leaves producer of sweets ETI after almost three years as General Manager of the Romanian branch, in order to join Concilium Consulting, and also to develop his own business, Niche Brands, which intends to bring to Romania niche brands from the food and cosmetics industries. Marian Bălan has also gained experience in the industry by implementing strategic projects in Romania and Central and Eastern Europe for companies such as Coca-Cola Hellenic, Danone, Mars and Secom.
Concilium Consulting, which provides corporate finance, procurement, financing, capital and investment consultancy services, was incorporated in 2006 by Vlad Năstase, a restructuring consultant and a member of the global management of Turnaround Management Association, incorporated in the United States of America. Concilium helps small and medium businesses and company groups from all industries successfully overcome difficult periods, conclude transactions and achieve their development objectives.
ETI European Food Industries, the local branch of Turkish group ETI, invested outside Turkey for the first time in Romania, at Craiova, where it opened a plant in 2016.