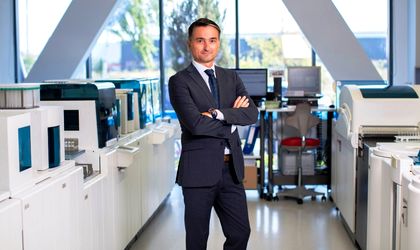 Laurentiu Luca, general manager of Synevo Romania, has been named managing director for South Eastern Europe, where he will coordinate the work of the chain of medical laboratories and harvesting centers in five markets, namely Romania, Bulgaria, Moldova, Serbia and Georgia.
Synevo is currently the largest provider of laboratory medical services in Romania and Eastern Europe. Synevo Romania has become a center of excellence in the region, supported by a medical team developed over 20 years of activity, combined with the advanced technology available in the Central Laboratory in Bucharest and in the other laboratories at national level.
"The Synevo Central Laboratory, launched in 2010 near Bucharest, following an investment of nearly EUR 10 million, has been thought from the outset as a regional hub. Romania becomes the center of Synevo's activities in South East Europe. I am proud of the achievements of our team and convinced that we can continue to contribute, through the advanced diagnostic services available in our international network, to improving the diagnosis of various pathologies," said Laurentiu Luca, general manager of Synevo Romania.
Laurenţiu Luca has extensive experience in developing and managing health care businesses. Starting in 2016, he is the general manager of Synevo Romania, the leader in laboratory diagnostics at the national level, part of the Medicover Diagnostic Services Division. He joined the company in 2010 as regional and development director in the Balkans, being responsible for the development of Synevo in Moldova, Serbia and Bulgaria. Laurenţiu is a graduate of the Faculty of Medicine at Ovidius University in Constanţa and holds a Master in Business Administration from The Open University, UK.