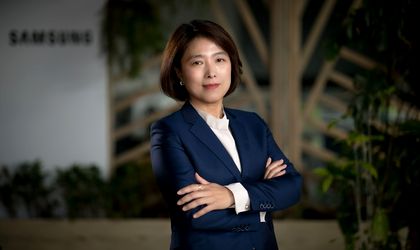 Samsung Electronics announces the appointment of Julia Kim as President of Samsung Electronics Romania and Bulgaria (SEROM). Starting January 2022, she will be responsible for managing the activities on both the Romanian and Bulgarian markets. With more than 25 years of expertise in the technology field, Julia Kim has been part of the Samsung team for almost 20 years.
"I am very honored to join the SEROM team! Samsung Romania has proved numerous times to be an excellent subsidiary, especially throughout the last two challenging COVID-19 years. I am confident that thanks to the great performance and quality in business proven by SEROM, we will contribute to the development of the company and we will strengthen our leading position on the technological market. I believe that the vision of tomorrow defines our way of life today", said Julia Kim, the new president of Samsung Electronics Romania and Bulgaria.
After acquiring a Bachelor's degree in Spanish literature and language in the Korean University, Julia started her career in Samsung's Management 'Support team. For several years she also gained experience in the start-up environment, rejoining Samsung and working in various fields of Strategic Marketing, such as: Product Planning / IMC, Online Marketing, EU Sales and Marketing.
Other notable steps in her career: in 2009, she was assigned to EVO (European Visual Operation) for EHQ in London and then moved to Samsung Electronics Baltics as CE Business Manager. In 2015, she returned to Korea's TV Global Product Marketing team and in 2020 she became President of Samsung Hungary.